Neil Gorsuch confirmation hearing live blog: Day 2 of his Supreme Court hearings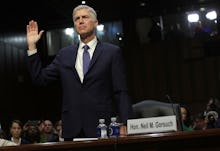 Supreme Court nominee Neil Gorsuch will face members of the Senate Judiciary Committee again on Tuesday for day 2 of the confirmation hearings that could determine whether he'll win a lifetime appointment to the highest court in the United States.
Gorsuch is likely to face tough questions from Democrats, who will pressure him to rebuke President Donald Trump's attacks on the judiciary, as he vies for a Supreme Court seat.
On the first day of Gorsuch's hearings on Monday, he only made opening statements, thanking his family and giving assurances to senators on the committee that he was not a partisan or an "activist" judge. On Tuesday, he'll be forced to say much more as senators pepper him with questions about his judicial philosophy and past decisions.
The hearing begins at 9:30 a.m. Eastern.
Follow this space for live updates.
7:10 p.m.: Gorsuch call's Trump's attacks on the Judiciary "disheartening," and Sean Spicer is mad
Gorsuch said attacks the Judiciary Branch — such as Trump's "so-called judges" remark — are "disheartening" and "demoralizing."
White House Press Secretary Sean Spicer took issue with that, calling the AP's tweet "wrong and misleading."
However Gorsuch was referring to Trump specifically, making Spicer's pushback wrong.
4:40 p.m.: Gorsuch calls same-sex marriage "settled law"
While Gorsuch did not give his personal belief on same-sex marriage, he told Sen. Al Franken (D-Minn.) that it is "settled law."
3:46 p.m.: Ted Cruz and Gorsuch reminisce about their clerking days
Sen. Ted Cruz, the Texas Republican and conservative firebrand, took a very light tone in his line of questioning, discussing war stories with Gorsuch about their days as clerks at the Supreme Court — one of the most prestigious positions for lawyers.
Gorsuch clerked for former Supreme Court Justice Byron White, while Cruz clerked for former Chief Justice William Rehnquist. 
2:54 p.m.: Gorsuch says he has an "open mind" to cameras in the courtroom
The Supreme Court does not allow cameras in the courtroom.
Sen. Amy Klobuchar asked Gorsuch whether he would be open to allowing cameras in the courtroom to allow more people to witness SCOTUS arguments.
"I come to it with an open mind," Gorsuch said. 
"It's not a question that I confess I've given a great deal of thought to," he added.
2:13 p.m.: Gorsuch says there's a lot he "regrets" about the confirmation process
In a tense back-and-forth with Sen. Sheldon Whitehouse (D-R.I.) on campaign finance disclosure, Gorsuch said, ""There's a lot about this confirmation process today that I regret. A lot. A lot."
One of the things he said he regretted was how long the hearing was, saying former Supreme Court Justice Byron White had a 90-minute hearing and could smoke cigarettes as he testified.
Gorsuch also said he regretted, "putting my family through this."
2 p.m.: Gorsuch punts on what he thinks of campaign finance disclosure rules
Sen. Sheldon Whitehouse (D-R.I.) asked Gorsuch whether he believes the public should know who is donating money to support Gorsuch's confirmation.
Whitehouse was referring to millions being spent to bolster Gorsuch's confirmation chances. 
"There's ample room for this body to pass disclosure laws for dark money or anything else it wishes to that can be tested in the court," Gorsuch said. "So, Senator, with all respect, the ball's in your court."
1:44 p.m.: Gorsuch discusses law student debt
Facing allegations that he doesn't stand up for the little guy, Sen. John Cornyn (R-Texas) asks Gorsuch to discuss his thoughts on law student debt and the cost of legal counsel.
Gorsuch went on to say that law school debt makes some students unable to take jobs they want because of their debt burden. 
He added that legal services have grown too costly for many people to afford, saying he's seen a rise in "pro se" clients, or those who go before the court without a lawyer.
"Too few people can get lawyers to help them with their problem," Gorsuch said. "I teach young folks law, who leave law school unable to afford their own services."
1:11 p.m.: Gorsuch clears air after student allegation
Prior to his hearing, one of Gorsuch's former students accused Gorsuch of suggesting women abuse maternity leave policies when he was a law professor at the University of Colorado Law School.
Sen. Dick Durbin (D-Ill.) asked Gorsuch about that accusation, saying he was merely asking students in his class about inappropriate questions they had been asked about family planning by employers.
"I am shocked every year how many young women raise their hand. It's disturbing to me," Gorsuch said.
"I am shocked it still happens every year that I get women, not men, raising their hand at the question," Gorsuch added. "Thank you for the question to clarify that Senator."
12:49 p.m.: The committee returns
We're back at the Gorsuch hearing, where Sen. Dick Durbin (D-Ill.) is now questioning the SCOTUS nominee
12:15 p.m.: Committee takes a break
The Judiciary Committee is taking a break for votes in the Senate chamber, and have lunch.
12:13 p.m.: Lindsey Graham knocks Trump
Graham — a South Carolina Republican who has made his disapproval of some of Trump's policies and behavior known — got in a jab at Trump as he took his turn questioning Gorsuch.
Graham said he is pleased with Gorsuch's nomination, saying he was "quite worried" about who Trump would choose.
"Maybe somebody on TV," Graham said to laughter in the room. 
11:55 a.m.: Gorsuch says he would have "walked out the door" if Trump asked him to overturn Roe v. Wade.
"It's not what judges do," Gorsuch says of promising presidents who appoint them how they'd rule in certain situations.
11:34 a.m.: Democrat asks about Trump's Muslim ban
Sen. Patrick Leahy (D-Vt.) pressed Gorsuch about Trump's Muslim ban, asking, "Do we ban people solely based on religion?" 
And while Gorsuch said he'd never divulge how he'd rule on any case that could come before him as a justice, he said that religious tests are unconstitutional.
"We have a Constitution," Gorsuch said. "It does guarantee free exercise" of religion.
Gorsuch added, "If there's any sincerely held religious belief ... the government must meet strict scrutiny before it can regulate on that basis."
11:16 a.m.: First mention of Merrick Garland
Nearly two hours in and we have the first mention of Merrick Garland, former President Barack Obama's SCOTUS nominee whom Republicans refused to give a hearing, thus killing his nomination.
Leahy asked Gorsuch whether he thought Garland, "Was treated fairly by this committee."
Gorsuch, while saying he respects Garland, refused to answer, saying it's, "Imprudent for judges to comment on political disputes."
Leahy was not pleased with that response.
"I think it was shameful, I think it has severely damaged the reputation of this committee,  I think it severely damaged the reputation of Senators who concurred with that," Leahy said.
11 a.m.: Democrats frustrated by Gorsuch's question dodging
An hour-and-a-half into Gorsuch's hearing, he's refused to answer almost every question about his personal views on landmark SCOTUS cases. 
Senate Minority Leader Chuck Schumer (D-N.Y.) tweeted in frustration about that dodging.
"It's not unreasonable for Senators to consider & question a nominee's ideology in cmte," Schumer tweeted. "But he should be willing to answer specific Qs."
10:41 a.m.: Democrat asks whether Gorsuch will only be "for the big corporations"
Sen. Dianne Feinstein, the California Democrat and ranking member of the Senate Judiciary Committee, grew frustrated with Gorsuch, who continually refused to answer what he thought of landmark Supreme Court cases on issues ranging from abortion rights to gun ownership to government regulation.
"How do we have confidence in you that you wont just be for the big corporations?" Feinstein said.
10:08 a.m.: Gorsuch refuses to say whether he agrees with the decision in Roe v. Wade
Gorsuch would not answer a question from Judiciary Chairman Chuck Grassley on whether he agrees with Roe v. Wade — a landmark Supreme Court case that granted abortion rights.
"Roe v. Wade, decided in 1973, is a precedent of the United States Supreme Court," Gorsuch said, without saying whether he agreed with the decision.
10:04 a.m.: Gorsuch dodges answering questions on 2nd Amendment, Citizens United
Grassley asks Gorsuch whether he agrees with some major cases, including the Supreme Court decision in Citizens United — which paved the way for super PACs and money in politics.
Gorsuch does not whether he agrees or disagrees with those decisions.
"My personal views belong over here, I leave those at home," Gorsuch said.
9:51 a.m.: Gorsuch says he has made no promises to anyone on how he'd rule
"I don't believe in litmus tests for judges," Gorsuch said. 
Gorsuch added, "No one in that process, Mr. Chairman, asked me for any commitments, any kind of promises, for how I'd rule in any kind of case."
9:43 a.m.: Chairman kicks off 10-hour-long hearing
Grassley kicks off the hearing by asking whether Gorsuch would, "Have any trouble ruling against a president who appointed you."
"That's a softball Mr. Chairman. I have no difficulty ruling for or against any party," Gorsuch said.
"There's no such thing as a Republican judge or a Democratic judge," Gorsuch adds.
9:33 a.m.: Gorsuch arrives for day 2 of questioning
Right on time, Gorsuch arrives before the Senate Judiciary Committee and shakes hands with committee members before taking his seat at the witness table.
The hearing will be 10 hours long. Yes, 10 hours. 
"We have a long day ahead of us," Grassley said.