These are the richest people in the world in 2017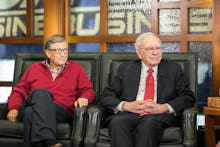 Billionaire BFFs Bill Gates and Warren Buffett topped Forbes' annual list of billionaires in 2017, with Gates coming in first place for the fourth year in a row. Buffett also had an exceptionally good year — his fortune climbed nearly $15 billion in the last 12 months — which helped him retake the number two spot. 
Overall it was a good year for billionaires, with gainers outnumbering losers by three to one. The total number of billionaires climbed 13% to 2,043, and their combined net worth rose 18% to $7.67 trillion. Forbes used stock prices as of Feb. 17, 2017 to determine its rankings, and notes that the fortunes of some members of the billionaire's club "have changed considerably since then."
Many names are familiar: Gates has been on top for 18 of the last 23 years; Amazon founder Jeff Bezos, Zara founder Amancio Ortega, and Facebook founder Mark Zuckerberg round out the top five. Zuckerberg and Bezos reached the number five and three spots, respectively, for the first time in the history of the list, though they had fallen from those positions as of Tuesday.
As in 2016, only two women, L'Oreal's Liliane Bettencourt and Walmart's Alice Walton, cracked the top 20 for 2017 — though their net worths have grown.
Several of the spots are claimed by members of powerful families. Including Alice Walton, three of the spots in the top twenty are claimed by members of the Walton family. Brothers Charles and David Koch of Koch Industries are tied for eighth place with fortunes of $48.3 billion each.
You can check out the full list of the top 20 richest people below:
20. Sheldon Adelson $30.4 billion
One person who didn't have such a good year, at least in terms of his net worth? President Donald Trump, whose net worth fell an estimated $1 billion since last year's report, mostly due to falling prices for New York City real estate, which makes up a large share of his portfolio. 
In contrast to Forbes' findings, a global report from the consultancy WealthX released Tuesday found that in much of the world outside the United States, including China and Germany, the number of billionaires actually fell.
Researchers there attributed part of the U.S.' advantage to the outsized gains in the tech industry.  Along with Gates, the founders of technology companies make up six of the world's twenty richest people, including Oracle Founder Larry Ellison, Facebook's Zuckerberg, Amazon's Bezos and Google co-founders Sergey Brin and Larry Page.
Sign up for The Payoff — your weekly crash course on how to live your best financial life. Additionally, for all your burning money questions, check out Mic's credit, savings, career, investing and health care hubs for more information — that pays off.