RuPaul's life is being turned into a dramedy — here's what we know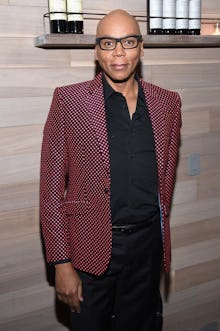 RuPaul's life is being turned into a TV show. Can we get an amen?
According to Deadline, J.J. Abrams's Bad Robot production company is teaming up with World of Wonder productions to share some herstory. The RuPaul's Drag Race host is adapting the story of how he became a legend into a half-hour series because he can. 
The dramedy will be a fictionalized version of the life-and-times of the icon's early days as a club kid in New York City in the 80s. 
Writing and producing
Deadline reports that the show will be written by Power executive producer Gary Lennon. RuPaul will be one of the main producers, joining Bad Robot's Abrams and Ben Stephenson. 
Also producing the dramedy will be World of Wonder's Fenton Bailey, Randy Barbato and Tom Campbell. The company is behind RuPaul's Drag Race, so the pairing makes sense. 
RuPaul's beginning 
The series is set to focus on a particular part of Mama Ru's life. More importantly, it'll focus on his early years as a nightclub star. 
RuPaul was born in San Diego and moved to Atlanta to study performing arts, eventually moving to New York City to focus on his drag career. He quickly became a prominent part of the club scene during that time and this will be the focus of the show. 
Casting and premiere date
There is no casting news, premiere date or network set for the show, but we'll be ready to watch when there is. 
Mic has ongoing TV coverage. Please follow our main TV hub here.