#WeAreCurves campaign sparks a feverish debate about what plus size really looks like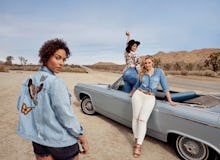 Even within the plus-size industry, customers are pushing brands to be as inclusive — and representative — as possible. 
The latest instance of this comes after plus-size retailer Simply Be launched its latest campaign, #WeAreCurves, which shows off a slew of the retailer's latest denim offerings on models Denise Bidot, Marquita Pring and Iskra Lawrence. 
Although the ad may appear to be standard when it comes to plus-size advertisements, fans of the retailer, which offers clothes in sizes 8 to 28, are calling it out for only representing a very particular vision of plus-size women. 
More specifically, plus-size women who are on the smaller end of the plus-size spectrum, with curves in all the "right" places and a flat stomach. 
On the Simply Be U.K. Instagram page, users wrote things like "Wish I had a flat belly like all of those plus size babes," and "Curves? Only around their arse and hips, where's the big tummies, big arms? You don't represent the people you sell to!"
Another commenter wrote: "I'm fed up of @SimplyBeUK saying they are for plus size and only ever showing small girls in all adverts and catalogs! Get real use above a size 14/16!!! Embrace what you say you are, don't reinforce what the masses think we should look like!" 
On Twitter, the retailer got heat too. 
But people are already fighting back — notably model Denise Bidot, who commented on Simply Be's Instagram as well, writing that while the clothes each model was wearing definitely slimmed them, they're still women who wear plus-size clothing. 
"I wish I had a flat belly too," Bidot wrote on Instagram. "These high waist jeans have belly reinforcement and made everything look smoother, but I assure you, when shopping I am plus size. I am a U.K. 18. I always push for diversity and inclusivity, and it's always a battle, but rest assured clients are listening. I am 5'7" (super short for modeling standards) and finally I see doors opening. It's taken 10 years, but it's possible if we keep asking for the right things. Let's lift each other up and not tear each other apart. Together we can be the change." 
Simply Be has also offered a statement of its own. 
"Our campaigns celebrate all different shapes and sizes in the way that our customers are all different shapes and sizes," a Simply Be spokesperson told Huffington Post U.K. "In previous campaigns we have featured blogger Gabi Fresh, a size 22, alongside Iskra Lawrence who is a size 14. Our current campaign features a size 14 model and two size 18 models. Our mission statement is to offer fashion for all, whatever size, shape or body-type."
Indeed, as Simply Be noted, it's cast more diverse body shapes and sizes before in its ads. But this ad's existence does enforce the idea, which Mic has reported on before, that plus-size retailers and brands often show off plus-size women who fit a certain plus-size ideal, meaning that they're tall with a slim waist and curvy hips and a larger bust. They get to reap the credibility of being an inclusive brand while siphoning off that inclusiveness to a very specific target.
"You're not seeing women with big bellies. You're not seeing anyone that has a smaller chest. You're not seeing anyone with big arms or really big thighs," Tess Holliday, a model who's a size 22, said in a previous interview with Mic. "You're kind of just seeing what's acceptably plus-size. Again, and I've been told this before and throughout my career: The clients are selling women an image and they're saying, 'This is what you want to look like and this is what you hope you look like in our garments.'" 
Mic has reached out to Simply Be, Bidot and Lawrence for further comment.