Apple unveils new iPad — a refreshed 9.7-inch iPad at a low price point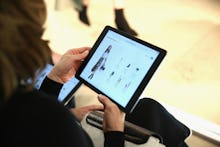 Apple's new iPad is here. Apple just released a new version of its 9.7-inch iPad that will retail at $329. The updated iPad features a 9.7-inch Retina display with over 3.1 million pixels, an Apple-designed A9 chip, cameras with low-light performance and HD video recording, Touch ID and iOS 10.
Apple unveils new iPad: Apple press release and Phil Schiller's statement
"iPad is the world's most popular tablet. Customers love the large, 9.7-inch display for everything from watching TV and movies, to surfing the web, making FaceTime calls and enjoying photos, and now it is even more affordable," Phil Schiller, Apple's senior vice president of Worldwide Marketing, said in a statement. "New customers and anyone looking to upgrade will love this new iPad for use at home, in school and for work, with its gorgeous Retina display, our powerful A9 chip and access to the more than 1.3 million apps designed specifically for it."
Apple's new iPad: When the Apple Online Store is down, it usually means something new is coming
The announcement comes after hours of speculation that Apple, which sold 13.1 million iPads during the first quarter of 2017, would be launching an entire range of iPads today. This was largely rooted in the fact that the Apple store was taken offline: In the early hours of Tuesday morning, Apple's System Status page stated the Apple Online Store is under maintenance from 12 a.m. Pacific. The landing page of the Apple store had "we've got something special in store for you" written on it, leading many to believe the "something special" are the new iPads.
Apple unveils new iPad: Are more on the way? A new iPad Pro?
Last week, rumors circulated that Apple is going to introduce a new lineup of iPads. There were talks of three new iPads to be launched: a new 10.5-inch iPad Pro model, an updated 12.9-inch iPad Pro and a refreshed 9.7-inch iPad. This was bolstered by CEO Tim Cook's most recent comments in January about iPads. "I still feel very optimistic about where we can take the product," Cook said, CNBC reported.
While the 9.7-inch tablet was announced today, the other two have yet to be unveiled. There's a great deal of hype surrounding the new iPad Pro model, which is rumored to come with smaller bezels, feature an edge-to-edge display and no home button.
A new red iPhone was just revealed as well
In addition to iPads, the Cupertino-based tech giant also announced the Product Red line of iPhone 7 and iPhone 7 Plus devices — these smartphones have a red aluminum finish. This special edition iPhone will be available worldwide on Friday, March 24.
Correction: March 21, 2017