'Designated Survivor' Episode 13 Spoilers: What will happen in "Backfire"?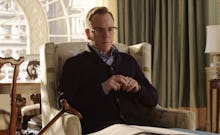 If last week's episode of Designated Survivor taught us anything, it is that we should never presume to know what will happen next. Since ABC's political drama returned from its winter hiatus, President Tom Kirkman and his few trusted confidants have worked to discover the truth behind the Capitol bombing and expose Vice President Peter MacLeish as a traitor. But their chances of learning the full truth took a major hit last week.
In episode 12, titled "The End of the Beginning," Kirkman and FBI agent Hannah Wells finally discuss the latter's evidence linking MacLeish to the devastating attack on the nation's Capitol. And with Kirkman's blessing, Wells is able to hatch a plan that would nail the vice president for his crimes. After some strategic prying by Wells, MacLeish is forced to console one of his former military squad members, who is worried their past cover-up would be exposed.
When Wells, and the FBI, overhear MacLeish admitting to perjury, they move in on the vice president. But that is when something entirely unexpected happens. MacLeish's wife, whom we know to be involved in the bombing, arrives on the scene and kills her husband, before turning the gun on herself. And with both their deaths go a whole lot of much-needed answers. 
In episode 13 of Designated Survivor's thrilling first season, President Kirkman is going to have to address the nation following the murder of the vice president, all the while dealing with new leaks of classified information from within the government. For more on episode 13, titled "Backfire," here is the official synopsis:
An investigative journalist shocks the White House when he reveals classified information during a press briefing and leaves Seth struggling to contain the damage from the leaked story. Meanwhile, Hannah unearths a key connection between MacLeish and the conspiracy.
Need a bit more to hold you over until Wednesday night's episode? Check out this promo for episode 13 of Designated Survivor: 
Designated Survivor airs Wednesday nights at 10 p.m. on ABC. 
Mic has ongoing coverage of ABC television series. Please follow our main ABC hub here.