Celebrity famine relief campaign for Somalia has raised almost $2 million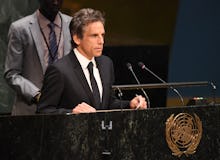 A viral aid campaign led by actor Ben Stiller and other influencers has raised nearly $2 million for famine-stricken Somalia in just five days, proving that social media still has the power to do some good in this world.
The movement began after French Vine and social media celebrity Jérôme Jarre, concerned about a lack of media coverage surrounding the famine Somalia is currently experiencing, put out a call to action to his followers.
After figuring out that there is only one airline currently making commercial flights to Somalia — Turkish Airlines — Jarre set a seemingly impossible goal: What if, using the hashtag #TurkishAirlinesHelpSomalia, his fans could get the company to respond?
Soon Stiller and other social media influencers Casey Neistat and Chakabars joined in, posting short videos on their respective platforms appealing to the airline to let the initiative use one of their cargo planes to deliver supplies.
To their surprise, the airline didn't just accept — it offered to make multiple trips.
Meanwhile, with the help of the crowdfunding site GoFundMe, the "Love Army for Somalia" campaign was born, and its organizers quickly reached $1 million in donations. 
According to the BBC, the first cargo plane, armed with 60 tons of food, will take off on Monday. The aid will be distributed on the ground in Somalia by the American Refugee Committee. 
But with the large social media profiles of the stars came the potential to cast a wider net, which they did — and they've since received nearly $2 million in aid.
Somalia has been plagued by heavy drought conditions that have resulted in the deaths of livestock and widespread crop failures. The crisis has resulted in food and water shortages, as well as massive internal displacement as Somalis seek refuge elsewhere.
Stiller, for his part, has turned the initiative into an Ice Bucket Challenge-style nomination campaign, recently tapping fellow Hollywood stars Emma Watson, Cara Delevingne, Lewis Hamilton and Alyssa Milano to join in donating.
In a video uploaded to Youtube, Neistat said the campaign was "the story of what can happen when the power of social media is leveraged for something good."