Arnold Schwarzenegger just skewered Donald Trump in a 40-second Twitter video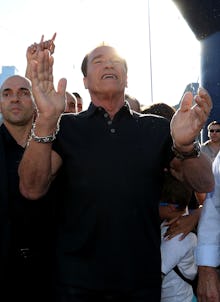 The ongoing feud between the United States' two biggest celebrities-turned-politicians just hit another level. 
On Tuesday morning, Arnold Schwarzenegger posted a video to Twitter mocking President Donald Trump's record low approval ratings and calling him out for a recent budget proposal that would cut funding for, among other things, Meals on Wheels and after-school programs for children.
"Oh, Donald, the ratings are in, and you got swamped," Schwarzenegger said in Tuesday's video. "Wow. Now you're in the 30s? But what do you expect? I mean when you take away after school programs for children and meals on wheels for the poor people, that's not what you call making America great again. Come on!"
Schwarzenegger also offered Trump some "advice" — telling him to go to a local middle school to check out after-school programs there, and linking to his own organization, After-School All-Stars, which runs extracurricular programs for low-income students across the country. 
Tuesday's video is just the latest chapter in an ongoing back-and-forth between Trump and Schwarzenegger, who replaced him on his reality show Celebrity Apprentice.
Back in February, Trump used his speech at the National Prayer Breakfast to mock the reality show's low ratings, to which Schwarzenegger responded in a video: "Hey Donald, I have a great idea, why don't we switch jobs? You take over TV, because you're such an expert in ratings, and I take over your job and then people can finally sleep comfortably again."