'The Americans' Season 5, Episode 3 Recap: Guess who's back in the USSR?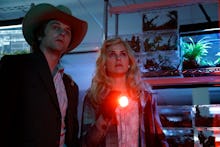 [Editor's note: This recap contains spoilers from season five, episode three of The Americans, "The Midges."]
The Americans sure did hit it out of the park again with this episode. The Jennings went on yet another heart-pounding mission dressed to the nines in one of their meme-worthy disguises, Paige was drawn further into their intricate web of spy games, Philip's son, Mischa, raised the drama even more by making it to Yugoslav —
Oh, who are we kidding? Let's get our priorities straight, shall we? MARTHA, y'all. Martha "Babushka" Hanson is back.
Well, maybe not back, but her split-second, dialogue-less appearance was a heaping swig of vodka for parched Americans fans who have been thirsting for any intel on our favorite burned Soviet asset ever since she took off for Russia last season. The one-time FBI secretary, blending in nicely with her fellow Muscovites in a traditional headscarf, was seen perusing the bare shelves at one of the food markets Oleg Burov was investigating. Her cameo did little more than reassure the audience that she's still alive, whether she's well remains to be seen. (But for those who still need more Alison Wright in their entertainment diet, the choices are as plentiful as the menu at Bennigan's: You can catch her in FX's Feud, Amazon's Sneaky Pete — and if you're in New York, she's making her Broadway debut in Sweat.)
With Martha one of the millions suffering from the food-shortage crisis in the Soviet Union, isn't it ironic that her former lover, Philip/Clark, is working to uncover who is behind the grain destruction in episode three, titled "The Midges"? The Jennings are now knee-deep into their bug-related mission, with episode three featuring the KGB officers taking a trip to Oklahoma dressed in cowboy/cowgirl disguises and dealing with another ill-fated on-scene casualty. But even though Philip and Elizabeth are preoccupied with their trip to the American heartland, Paige still remains at the forefront of their minds.
The teenager has now graduated from really awkward sex talks to being let in on the details of an actual mission. Philip and Elizabeth's reasoning here is not so much that they want to share their lives with their daughter, but the hope that the details of their day-to-day reality will entice her to break up with Matthew Beeman. So they throw a lot at her this episode: The idea that the United States is purposely sabotaging grain being sent to the Soviet Union, as well as the fact that they pretend to be other people in order to elicit information from, say, a Russian defector smuggled out to help the U.S. Department of Agriculture. We'll have to wait for Paige to be introduced to the wig vault, though; Philip and Elizabeth are still keeping a lid on the whole disguise element for now.
Holly Taylor continues to nail every one of her scenes in "The Midges," finding the delicate balance between Paige's struggle to grasp the new information she's being forced to absorb at breakneck speed, as well as her innate sense for the family business. She may not be entirely comfortable with her parents' methods for obtaining information, but she still asks great questions for a spy-in-training, like, "How can you trust what [Alexei Morozov] is telling you?"
The real discomfort for Paige, however, comes when she realizes how good she is at implementing methods that likely came straight out of a KGB handbook. The thumb-and-forefinger-rubbing technique that her parents taught her in the last episode came in mighty handy during a pizza date, when Matthew noticed how "sad" she was. Whether or not the technique was just a placebo used to manipulate their daughter's guilt doesn't matter, because it worked like a charm — she just says she's stressed over homework. Later, in the Jennings' Laundry Room of Solitude, Paige confides to Elizabeth that she was surprised at how "easy" it was, but it still made her feel "gross." It's those moments, when Paige's American-born humanity shines through, that will always keep us guessing as to whose side she's really on. (There is no clear-cut answer there, because even she is still figuring it out.)
Matthew may have been duped by his girlfriend in episode three, but he's spot-on when it comes to the adjective that defines Paige this season, which is, in the words of our president, "sad." All she wants is to be a normal teenager with a hormonal boyfriend, and that's a tall order when your mother can only give you relationship advice that she learned more from her KGB training than any actual dating experience: "You don't share everything," Elizabeth instructs her daughter. "You hold back when you need to." Well yes, Nadezhda, but also, no. Then again, what other kinds of relationship lessons could Paige's parents give her? This is all they really know, having been groomed to live as husband and wife since they were barely out of their teens.  
Pest control 
It's an interesting juxtaposition, having Elizabeth give Paige such a twisted-sounding take on relationships, when episode three happens to be an excellent example of how nicely the Jennings' marriage has evolved over the years. We've known for four seasons already that Philip and Elizabeth are a well-oiled machine capable of collecting necessary intelligence and cleaning up a murder scene with maximum efficiency. But after two decades of angry sex and distant emotions, their mission to Oklahoma brought forth something brand-new: Tenderness.
As they take a brief breather from their high-stress job investigating a type of midge that can "decimate grain," we get a Philip/Elizabeth "sex" scene unlike those we're so accustomed to. Alabama's "Old Flame" plays on the radio (the first of two excellent music cues this episode), as Elizabeth tries to cheer Philip up by wearing his cowboy hat in a sensual manner ("You think they're gonna make me queen of the rodeo this year?" she purrs). A polar opposite to last season's "Under Pressure" sex-quence, this is a sweet moment between husband and wife, where they do nothing more than kiss and slow dance.
It's a stark contrast to what ends up happening later that evening, though you'd think we'd all be used to Philip and Elizabeth killing those poor saps who have an affinity for working late. When the Jennings break into a research lab to get further intel on the bugs supposedly being bred to starve their country, their reconnaissance mission is interrupted by a working stiff named Randy. (For those keeping track, Randy is this season's Betty.) After strong-arming Randy for information, Philip and Elizabeth relieve him of his breathing duties, while Roxy Music's "More Than This" (the second great music cue of the episode) soundtracks the cleanup portion of the job.
It's just another day at work for these two. Except for a newly-added wrinkle: Now that they've informed their daughter about the mission, Philip rightfully wonders aloud, "Should we tell Paige about this?"
You know you're in deep when disposing of a dead body is the easier task at hand.   
Stray observations 
• The Burov family home is no longer a safe haven for Oleg: Now that he's been threatened with an incriminating cassette tape, it feels as if even the walls of his childhood bedroom are closing in on him. It's a slow-burn story line, but one that's fascinating to watch. He doesn't want to continue betraying his country, but the all-American Stan Beeman may be his only ally at this point.
• The other slow-burn story line this season that has massive blow-up potential later on is Mischa's glacial-pace journey to America. He's gotten as far as Ljubljana, Yugoslavia, but getting into Austria may be tough given the goon that has just taken most of his cash.
• It was no Bennigan's, but a night out between the Morozovs and the "Eckerts" at the bowling alley (those Jennings sure do love to bowl), at the top of the episode proved productive for Philip, Elizabeth and Tuan. Thanks to an in-Russian spat between Alexei and his wife, Evgheniya, "Brad" and "Dee" learn the reason why Pasha isn't too happy with his new life in the good ol' U.S. of A (and frankly, neither is Evgheniya): Alexei's wife and son weren't given any advance warning that he was going to defect. It's vital intel for future exploitation, and it adds a new layer of compassion for Evgheniya and Pasha, but I'm ready for a turning point in this story line. Alexei's nonstop complaining about how awful the Soviet Union is — and Tuan's counteractive whines about how ungrateful the Morozovs are — is tiresome, and we're only on the third episode.
• The Americans has always been really smart about infusing realism into the most mundane aspects of intelligence missions: When Philip and Elizabeth are changing out of their Brad and Dee Eckert disguises and discussing Tuan's great instincts, they still look like they're just an ordinary couple sharing a mirror before heading out on a date night.
• I thought it was a nice touch to show Philip still suffering from the torment of his Dickensian childhood. The brief flashback serves two purposes: One is that these demons never really went away. The other is how the memories of his own post-war starvation could re-energize his commitment to the Soviet cause.
The Americans airs Tuesdays at 10 p.m. Eastern on FX.
Mic has ongoing The Americans coverage. Please follow our main The Americans hub here.