'The Late Show' brings back 'The Colbert Report' — sort of — for Trump's budget plan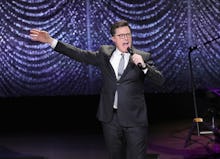 Stephen Colbert hasn't exactly been shy about his contempt for Donald Trump, taking merciless jabs at the controversial president almost every night on The Late Show. Whether poking fun at the Bowling Green massacre, sharing his thoughts on pizzagate or skewering Rachel Maddow's report on Trump's tax releases, Colbert and his writing team have not held back.  
Colbert's devotion to political commentary, despite being exhausting for the comedian, has proven beneficial to The Late Show, resulting in a ratings spike post-election. 
He took it to a new level on Monday night when he addressed Trump's controversial budget plan. But he couldn't do it alone, so he brought on his alter ego, Stephen Colbert. No, that's not the Stephen Colbert from The Colbert Report — bringing him on the show in June resulted in calls from another company's lawyer — so it was his "twin cousin," who has paid a few visits to the set, most recently begging President Barack Obama to stay in office. 
Colbert began his monologue about Trump's budget cuts, taking jabs at cuts to the National Endowment for the Arts and the Environmental Protection Agency as well as Meals on Wheels. "What kind of heartless monster would be against [Meals on Wheels]," he remarked.
Colbert's alter-ego then appeared, asking, "Did someone say fiscal conservative?" 
"I wanted to stop you from making an ass of yourself on network TV with your misguided analysis of Trump's budget," the conservative caricature told his "twin cousin," who challenged him in response with, "You think you can do better?" Conservative Colbert immediately strode onto the set, wielding a patriotic shield and sword. 
Humility has never been The Colbert Report's host — er, his twin cousin's strong suit, and he immediately sat down at the host's desk to present "The Werd," a tongue-in-cheek revamp of The Colbert Report's "The Word." Colbert proceeded to deliver a blistering commentary on Trump's budget and the harm it would bring to the country's low-income and underprivileged communities. 
Colbert raked Mick Mulvaney, Trump's budget director, over the coals for calling the cut "compassionate," offering tongue-in-cheek praise for the financial choices. He then turned to the military objectives of the budget, asking, "Why waste money on Meals on Wheels that could be used on weapons systems?" 
The budget also proposes to cut after-school lunch programs for low-income children. But to the conservative Colbert, that makes perfect sense. After all, "Why feed children if they aren't doing better in school? Take the food away, and maybe they'll be hungry for knowledge"
And, in typical Colbert fashion, the segment ended with a sly call to action as Colbert shared his fears that people will call their representatives to voice their objections to the budget — and thus result in Donald Trump needing Meals on Wheels himself. 
Mic has ongoing coverage of Stephen Colbert. Please visit our main Stephen Colbert hub.