Patriots owner Robert Kraft has visited Trump twice since players announced their boycott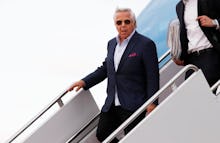 New England Patriots owner Robert Kraft has visited President Donald Trump twice at Mar-a-Lago since his team won the Super Bowl Feb. 5, even as several Patriots players continue to boycott the president over what they say are bigoted rhetoric and policies.
Kraft's latest visit came Sunday, when photographs circulated of the 75-year-old disembarking Marine One with Trump's chief strategist, Steve Bannon, on the White House lawn after reportedly traveling there from Palm Beach, Florida.
Kraft's first visit after the Super Bowl came Feb. 10, when he joined Trump, Japanese Prime Minister Shinzo Abe and others during an eventful weekend at Trump's Florida estate. 
Kraft's personal friendship with Trump is well-documented. But it assumed greater political dimensions after the Super Bowl, when Patriots tight end Martellus Bennett and safety Devin McCourty announced they would not visit the White House to mark their victory, as professional sports champions traditionally do.
"I'm not going to the White House," McCourty told Time in a text message Feb. 6. "Basic reason for me is I don't feel accepted in the White House. With the president having so many strong opinions and prejudices I believe certain people might feel accepted there while others won't."
At least three more players — all black, save for Chris Long, who is white — announced similar boycotts in the following days. Trump has yet to invite the team to the White House to celebrate, and it is unclear whether any of the Patriots will end up going.
But the differing responses to Trump between Kraft and his employees — who are far more likely to be victimized by Trump's racist policies — highlight the lack of solidarity between the Patriots owner and the black men whose labor he milks millions of dollars from. When confronted with this divide in the past, Kraft has remained diplomatic about everyone's right to their own views.
"[This] is America," Kraft said in February, according to NBC Sports. "We're all free to do whatever's best for us. We're just privileged to be in a position to be going."