Trumpcare Changes: The 3 biggest modifications House GOP made to the AHCA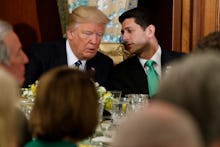 On Monday evening, according to CNN, House Republicans released a series of updates to the American Health Care Act, the piece of legislation meant to make good on their promise to repeal and replace former President Barack Obama's Affordable Care Act. 
Days of negotiations led to the updates, which were meant to bring conservatives and moderates together in support for the bill. 
The bill makes a few key changes from Obamacare. 
Medicaid 
Medicaid, a kind of state-run safety net for those who cannot afford health insurance, underwent many changes in the newly-released updates. 
The updated AHCA would let states opt to receive Medicaid funding as a block grant, rather than an amount based on the number of enrollees. That means that even if the number of enrollees in a state went up, the amount of money from the federal government would stay the same, meaning less to go around to those who make use of Medicaid. 
Another addition to the law would prevent states from expanding Medicaid, essentially leaving more poor people out of luck when it comes to health coverage. Enhanced funding set aside by the Affordable Care Act would be lost as of January 1, 2020 under the new law.  
Under the new law, some states would be able to required able-bodied Medicaid recipients to work, attend job training programs or perform community service. 
An unspecified $85 billion
According to Politico, House Republicans set aside $85 billion for Americans between the ages of 50 and 64 to afford premiums, which will skyrocket under AHCA. However, the House GOP punted the responsibility of ironing out the details to the Senate GOP. 
If the bill passes in the house, it would instruct the Senate GOP to determine how the tax credit would work. Under the updates, the money for the credit would come by barring people from writing off certain medical debts.
New York concessions
All legislation is a numbers game. To get GOP people from upstate New York on board, the House GOP added a provision that would stop the federal government from passing down Medicaid costs to the counties, according to New York Rep. Chris Collins. 
According to CNN, in New York, counties outside New York City send $2.3 billion to the state to help pay for Medicaid. Collins said this measure would help woo upstate Republican legislators. 
Upcoming vote
Donald Trump is set to meet with lawmakers on Capitol Hill on Tuesday morning to discuss the bill. To pass the House, the bill needs 216 votes. A vote is currently set for Thursday, according to CNN.