11 dinner recipes with 5 ingredients or fewer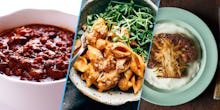 The more ingredients, the heavier the shopping bag, the bigger prep mess, the higher stack of dishes in your sink and the lower chance of you actually wanting to cook. 
If the last thing you want to do after a full day of work is whip up an elaborate meal — join the club — allow yourself to exhale a deep sigh of relief.  There are plenty of healthy, satisfying recipes that call for fewer than five ingredients, and they may even make you excited to meal prep after a tiring day. 
Cut down that grocery list and kitchen time with these five-ingredient (note: your kitchen will need to be stocked with the basics, like olive oil, salt and pepper) recipes you're about to make your weekday staples.
Chicken in butter
This recipe is as simple as chicken seasoned and sautéed in butter. Too good to be true? Try it. Get the recipe here.      
Baked fish fillets with butter and sherry
It's amazing what butter and some booze can do to a simple piece of protein. Grab some herbs and salad greens to make this a complete meal/ Get the recipe here. 
Dan Barber's cauliflower steaks with cauliflower puree
A chef's greatest trick? Using the same ingredient in multiple ways. This cauliflower gets roasted and pureed, meaning its crispy, mushy, savory and oh so satisfying without all the hard work. And, needless to say, this one in particular is majorly Instagrammable. Get the recipe here. 
5-ingredient chili
All five ingredients for this chili can be kept in your pantry or freezer. so you can whip it up fresh when you're in a cooking crunch. Hopefully you have some cheese nearby to sprinkle on top. Get the recipe here. 
3-ingredient creamy tomato shells
Okay, this is really just dressed up pasta with a jar of sauce, but the brilliant addition comes from cashews, which add an extra creaminess and protein. The nut completely amplifies the taste and nutritional profile of a lazy pasta night. Get the recipe here. 
Simple bolognese
Just five ingredients and two hours gets you fragrant, filling meat sauce to slather on anything, leaving you more time to clean up around the house (or chill out to a good Netflix doc) while your hands-off dinner simmers. Get the recipe here. 
5-ingredient spinach parmesan zucchini noodles
Break out that spiralizer and make this vegetarian, pasta-free dinner on the cheap! Get the recipe here. 
Sheet pan teriyaki salmon and vegetables
If you count sesame seeds and scallions as half an ingredient each, this combo of salmon fillets, green beans, carrots and teriyaki sauce is a quick and nutritious five-ingredient meal. Check out these quality sheet pan cooking tips and get the recipe here. 
Spaghetti carbonara
Five ingredients, 15 minutes, infinite happiness. If you stock eggs, parmesan and pasta in the house, you can whip up a solid carbonara any night. Just grab the bacon on the way home if you don't have some waiting in your fridge! Get the recipe here. 
5-ingredient chicken tikka masala
An Indian dinner made from just five ingredients? Yes, it's possible! Rice naan-included in the ingredient count. Get the recipe here. 
5-ingredient cranberry and brie cinnamon sugar puff pastry rolls
All five ingredients are called out in the name of this recipe. Make these for breakfast, or as a dinner appetizer or dessert or just for dinner, really — they're so versatile and delicious. Get the recipe here.