Starbucks avocado spread is the goes-on-everything topping you need in your life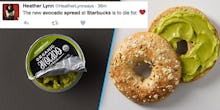 The high price of avocados is a thorn in any guacamole lover's side. A single avocado can cost anywhere from $1.50 to $3. And waiting for the green fruit to ripen can take several days to boot. (Time is money, right?) 
Luckily, there's a new way to get your fill of avocado on-the-go. Starbucks has quietly rolled out an organic avocado spread in select stores for the past few months and starting Tuesday, the condiment is finally available in stores nationwide. 
The spread, which contains no dairy or animal products, comes in a small circular package. It's like a cream cheese packet but with a green surprise within. It delivers a creamy texture that makes it spreadable (and dippable, if you don't have a knife and you need to dunk your bagel, veggie sticks or chips into the small package). 
Don't expect guacamole here. While this spread has a much thinner texture (no chunks or onions — and less of a lime flavor), it makes for a scrumptiously creamy, dairy-free alternative to cream cheese. The smooth texture is thinner than most store bought guacamoles.
No, cream cheese has nothing on this luscious green schmear. This multigrain bagel is all dressed up and ready to party in your belly. The little serving would also pair nicely with an otherwise sad desk salad or that free bag of chips you scored at the office.
The best part of the new spread? At 95 cents per package, it won't break the bank. That's a dollar less Chipotle's guac, which is roughly $1.95 extra. Do note: The Starbucks avocado spread and Chipotle's guac are roughly the same price per weight because Chipotle's guac comes in a bigger package. 
People are already thrilled with the spread, taking to Twitter and Instagram to profess their love.
So what are you waiting for? Snacking on the green stuff by the spoonful, spreading it on your breakfast sandwich, dunking a bagel into it— the sky's the limit. 
March 21, 2017, 2:10 p.m.: This article has been updated.