Why is the new iPhone red? Here's the meaning of the iPhone 7's next color.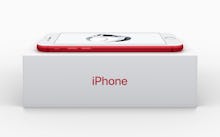 Apple announced a sixth new color for the iPhone 7 and iPhone 7 Plus: red. The current iPhone models already come in five colors: jet black, black, silver, gold and rose gold.
What's with the red iPhone 7 and 7 Plus featuring an aluminum finish? The shade is part of Apple's Product Red line, which contributes to the Global Fund to Fight AIDS. The red color is symbolic of AIDS awareness.
"100% of all money raised by Red goes directly to Global Fund HIV/AIDS grants that provide testing, counseling, treatment and prevention programs with a specific focus on eliminating transmission of the virus from moms to their babies," Apple wrote on its website. "Since it was founded in 2006, Red has generated more than $465 million for the Global Fund, with more than $130 million from Apple alone."
Apple will be releasing the special edition red iPhones in two models: 128GB and 256GB. Consumers around the world looking to get their hands on the red smartphones can get them online or in store on Friday, March 24. The devices will ship later in the month.
The Product Red line includes more than the iPhone 7 and 7 Plus: It features a lineup of iPods, Beats Solo 3 Wireless On-Ear Headphones, Beats Pill+ Portable Speaker, the iPhone 7 Smart Battery Case and a range of accessories for iPhone, iPad and Apple Watch.