'Disc Jam' Xbox One Release: Microsoft gamers pine for new, free-to-play PS4 exclusive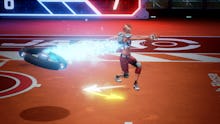 High Horse Entertainment has created a winner with its free-to-play PlayStation 4 exclusive, Disc Jam, and Xbox One users want in on the futuristic sports game. Unfortunately, there's no official word on when the game might be released on the competing platform.
Here's what you need to know about Disc Jam while you wait for the game to (hopefully) make the leap to Xbox One.
Disc Jam: The next Rocket League?
Rocket League to the gaming world by storm in 2015 when Sony offered it up as a free download through PlayStation Plus. The game offered a unique experience (soccer with rocket-powered race cars) and quickly took off. Now it looks like Sony is trying to replicate that success by offering another futuristic sports game as a free download to subscribers.
Disc Jam is like a mixture between several different sports: It's part air hockey, part tennis and it even has strong elements of frisbee — without the hovering effect.
The character design is reminiscent of the old American Gladiators TV show that seemingly inspired current programs like American Ninja Warrior. It looks awesome.
To be fair, the graphics don't exactly jump off the screen, but the moment you pick up a controller and begin to play, you'll realize the charm and addictive qualities of the game.
Disc Jam Xbox One release date: Coming soon?
So when will Disc Jam release on Xbox One? There's no current timetable. However, the developers have said they intend to release the game on other platforms.
Amazingly, Disc Jam was created by a two-man team: Jay Mattis and Timothy Rapp. Mattis has said he and Rapp are focusing on PS4 and Steam for the time being. But if Disc Jam can continue to grow its popularity, it only makes sense to expect it to expand.
Primarily, the company needs to focus on improving matchmaking and adding new content, characters and game modes. Right now, the game feels like a large demo rather than a complete game, but there's no doubt the potential is there.
More sports gaming news and updates
Are you a sports gamer? Check out more content from Mic, including tips for leveling up your NBA 2K17 MyPlayer, playing quarterback in Madden 17, the latest information on MLB The Show 17 and the classic Nintendo sports games we want to see on the Switch.