9 songs Drake sampled on 'More Life': From Jennifer Lopez to 'Sonic the Hedgehog'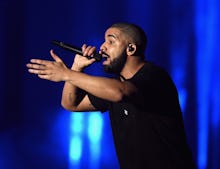 Drake's highly anticipated new album More Life was finally released on March 18. 
The album, which is really more of a playlist, features 22 tracks from the rapper. While everyone is currently streaming the latest effort from Drake, you may be wondering who the singers are behind some of the songs featured. Well, we've got the complete list of the samples included by the rapper. 
More Life contains an eclectic mix of samples from big names, underground artists and even a very memorable TV theme song. For us, More Life is the album Views should have been, and part of that is thanks to how fun the samples are. 
From Jennifer Lopez's timeless "If You Had My Love" to Sonic the Hedgehog's original theme song, these are the nine songs sampled by Drizzy. 
1. Tony Yayo and Danny Brown, "Roll Up"
Song: "Free Smoke"
2. Drake, "Doing It Wrong"
Song: "Jorja's Interlude"
3. Jennifer Lopez, "If You Had My Love"
Song: "Teenage Fever"
4. Sonic the Hedgehog, "His World (Original Version)"
Song: "KMT" ft. Giggs
5. Skepta, "Shutdown (Live)"
Song: "KMT" ft. Giggs
6. Earth, Wind and Fire, "Devotion"
Song: "Glow" ft. Kanye West
7. R. Kelly, "Clipped Wings"
Song: "Since Way Back" ft. Partynextdoor
8. Lionel Richie, "All Night Long"
Song: "Blem"
9. Snoh Aalegra, "Time"
Song: "Do Not Disturb"
Mic has ongoing Drake coverage. Please follow our main Drake hub here.