'Mass Effect: Andromeda' Reyes Vidal: How to kiss and romance the male character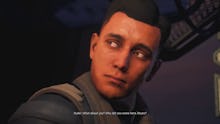 If you've played through other popular Bioware titles, you might be familiar with what Mass Effect: Andromeda has to offer its players — namely action, adventure and the ability to smooch some serious space hotties.
There are slightly different paths to romancing each character, some of which even involving missions. Who you're able to partner up with can also depend on which twin you chose to play as — some characters are available to both twins, while some are available to only the male or female Ryder. 
One of those characters is a hot — maybe Spanish? — dude named Reyes Vidal. Here's how to romance him.
How to romance Reyes Vidal in Mass Effect: Andromeda
Luckily for us, Reyes is interested in both the male and female Ryder. Unfortunately, it looks like meeting Reyes is altogether optional, so you have to be careful with your decisions so as to make sure you don't miss him. You'll only meet him if you refuse to take Sloane Kelly up on her offer, so keep that in mind! (And yes, this is purposely vague to avoid spoilers.)
You'll meet Reyes during the story arc that takes place on Kadara — specifically, in a bar where he will get you a drink. As you play through the story on Kadara, you'll run into Reyes a few times, where you'll be able to push forward the relationship. 
According to PC Gamer, once you've finished the primary task with him, "scan the dead body in Kadara Port and meet Reyes in the nightclub in the slums to talk about the murder." It's in this nightclub scene that you'll be able to grab your first smooch from Reyes.
More gaming news and updates
Check out the latest from Mic, including our deep dive into how female Overwatch players are dealing with online harassment, a cool making-of video for Legend of Zelda: Breath of the Wild and an article about what a Bechdel test for gaming might look like.