When does 'Gotham' season 3 return? Here's what we know.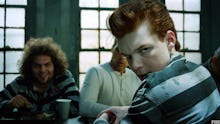 Don't shine that Bat Signal just yet. Gotham, the FOX crime drama that provides a prequel to the story of Batman, will return to wrap up its third season on April 24. 
The winter finale, which was titled, "The Gentle Art of Making Enemies," saw the villain Jerome, return to face off with Bruce. With just a few weeks left, here's what we've gathered so far about the return to Gotham City. 
The second half of season three 
Gotham's executive producer John Stephens told Comicbook.com that fans could look forward to seven or eight episodes when the series returns.
 "We're doing 11 [episodes] in the fall, then there's three episodes in January, then the final run of seven or eight episodes in the Spring," he explained. "[The three] is not a self-contained [series of] episodes, because it extends what we're doing in the Fall, but it is an ended story, so we'll arc it out." 
The Riddler finds his costume 
The 15th episode of the show is titled "How the Riddler Got His Name," and shows Edward Nygma, played by Cory Michael Smith, wearing the iconic green suit. His trademark green question marks are shown painted onto objects as well. 
Batman won't be showing up any time soon 
While the villains are seen in their early stages, David Mazouz, who plays young Bruce Wayne, has said he does not think Batman will appear on the show any time soon. "Batman can't exist until he's necessary, and he's not necessary yet," he said to Collider. "The world of Gotham has to get a lot worse, which it will." 
Bruce needs to grow up a bit 
The teenager's personality does not seem suited to wear the mantle of the Caped Crusader yet, given that Mazouz said of his character, "Bruce is the kind of person who always likes to make amends, and he doesn't want anybody to be mad at him." A people-pleaser is not exactly the personality type for a caped vigilante. 
The Fox series, which features characters from the DC Comics and follows origins of heroes and villains, including the Penguin, the Riddler, Catwoman, Poison Ivy, Mr. Freeze and Scarecrow, premiered Sept. 22, 2014. It received solid though not spectacular reviews; the second season, which was announced in January 2015, inspired similar ratings. Gotham was renewed for a third season in March 2016 before a Sept. 19 premiere. 
Viewership has dropped for the third season of Gotham: 3.90 million viewers tuned in for the third-season premiere compared with the 8.21 million who tuned in to the season one premiere.
Gotham's midseason finale aired Jan. 30, and the third season continues April 24 at 8 p.m. Eastern on Fox. 
Mic has ongoing Gotham coverage. Please visit our main Gotham hub here.