The Anne Frank Center ripped into Tim Allen for saying Hollywood is "like '30s Germany"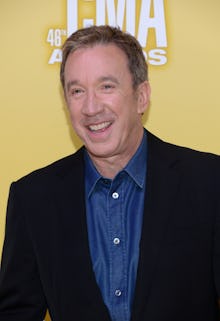 Tim Allen recently compared being a conservative in Hollywood to living in Nazi Germany, and the Anne Frank Center isn't pleased about it.
"You get beat up if you don't believe what everybody believes," Allen said during his Thursday appearance on Jimmy Kimmel Live!. "This is like '30s Germany. I don't know what happened. If you're not part of the group, 'You know what we believe is right,' I go, 'Well, I might have a problem with that.'"
The remarks struck many as being totally preposterous, not to mention offensive. They especially rankled the staff in charge of carrying on the legacy of Anne Frank, one of the Nazi regime's best-known young victims.
On Sunday, the Anne Frank Center for Mutual Respect — which is headquartered in New York City — fired back with a powerful Facebook post slamming Allen for making the comparison and calling on him to apologize.
"Tim, have you lost your mind?" said Steven Goldstein, the Anne Frank Center's executive director. He continued: 
No one in Hollywood today is subjecting you or anyone else to what the Nazis imposed on Jews in the 1930s — the world's most evil program of dehumanization, imprisonment and mass brutality, implemented by an entire national government as the prelude for the genocide of nearly an entire people. Sorry, Tim, that's just not the same as getting turned down for a movie role.
The Anne Frank Center has been vocal in recent months amid a rise in anti-Semitic attacks. In February, Goldstein slammed President Donald Trump for his delayed response to reports of anti-Semitic acts across the country. When Trump finally denounced the attacks, saying, "We want to have it get very much better," Goldstein called it a "Band-Aid on the cancer of anti-Semitism that has infected his own administration."