Electronics Ban on Planes: Which airlines are affected by the US ban?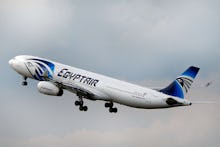 The Trump administration has issued a ban on all electronic items "bigger than a smartphone" for travelers taking direct flights to the United States from major Middle Eastern and African airports.
Kindles, iPads and similar devices will not be allowed in the cabin and must be stored in the plane's cargo hold on certain flights.
U.S. officials said intelligence "indicates terrorist groups continue to target commercial aviation" by "smuggling explosive devices in various consumer items," but did not provide information about any specific threats, according to CNN.
The U.K. is expected to announce a similar ban on Tuesday, the BBC reported. 
The electronics ban follows President Donald Trump's revised travel ban, which has been temporarily blocked by federal judges in Hawaii and Maryland. 
Affected airlines have 96 hours to implement the new policy. No U.S. airlines are affected by the ban.
Which airlines are named in the U.S. ban?
The policy impacts nine airlines that operate direct flights to the United States from airports in 10 cities, according to CNN: Egyptair, Emirates Airline, Etihad Airways, Kuwait Airways, Qatar Airways, Royal Air Maroc, Royal Jordanian Airlines, Saudi Arabian Airlines and Turkish Airlines.
The 10 cities are Cairo; Dubai and Abu Dhabi, United Arab Emirates; Istanbul; Doha, Qatar; Amman, Jordan; Kuwait City; Casablanca, Morocco; and Jeddah and Riyadh, Saudi Arabia.
If the airports and airlines do not comply, they will be barred from flying into the United States, a senior U.S. official told CNN.