Wyclef Jean mistakenly detained in West Hollywood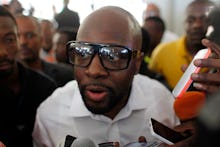 As Los Angeles police officers mistakenly detained Wyclef Jean in the early hours of Tuesday morning, the Grammy-winning singer repeatedly asked them one question, according to USA Today:
"Why am I in handcuffs?" 
On his Twitter and Instagram accounts, Jean detailed what happened when he was stopped on the street by law enforcement in the early hours of March 21 after a long night in the studio.
"LAPD another case of mistaken identity," one tweet said. "Black man with red bandana robbed a gas station as I was in the studio working but I'm in handcuffs?"
In another video posted to Instagram, seemingly taken by one of Jean's entourage, he can be heard asking his companion for the address of the studio they had come from.
An officer who spoke with USA Today said Jean and his vehicle both matched the description for another man wanted for armed robbery. The officer said the singer was never arrested, and that he was detained for 10 minutes until police could determine they'd nabbed the wrong suspect. 
Mic's calls to the Los Angeles Police Department's West Hollywood police station went unanswered.
In tweets following the incident, Jean described being cuffed before he was asked for any identifying information, and said he was ignored and "treated like a criminal" during the entire process.
"I am sure no father wants his sons or daughters to see him in handcuffs especially if he is innocent," he wrote.