'Overwatch' Orisa Update Release Time: Here's when you can expect to play the new hero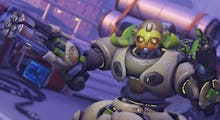 Update: Orisa is now live on all platforms.
Between the release of Mass Effect: Andromeda and the brand-new Overwatch character, Orisa, there's a lot to look forward to in the coming days. 
Blizzard has yet to release the official patch notes for the Overwatch update that will usher in its 24th hero, but there are a huge amount of updates on the public test realm that are likely to go live alongside Orisa. For example, there are some pretty big balance changes to Ana, Sombra and Lúcio  on the way.
Here's when you can expect to start downloading the new Overwatch update and take Orisa for a test drive.
Overwatch Orisa release time
In the past, Overwatch updates have dropped in the early afternoon, around 2 or 3 p.m. Eastern. That will likely be the case with Orisa's release, too. 
Be warned: Blizzard recently announced Orisa will not be available in competitive play for a full week.
"We want to give players some time to learn about and play Orisa before she's placed into the crucible of Competitive Play," Overwatch principal designer Scott Mercer wrote in a forum post. "She'll still be immediately available in Quick Play, the Arcade (including custom games with the competitive ruleset) and Play vs. AI."
It's also likely Blizzard wants to make sure Orisa isn't wildly unbalanced before allowing players to use her in the high-stakes competitive mode. If they find any big problems, they'll probably tweak her stats once more before unleashing her on the competitive scene.
As soon as the update drops, we'll keep you updated with the full patch notes.
March 21, 2017, 2:20 p.m.: This story has been updated.
More Overwatch news and updates
For more on Overwatch, check out the rest of what Mic has to offer. Here is a list of our predictions for what seasonal events might appear in 2017, a look at a very funny but naughty meme on the Overwatch subreddit, an interview with the creator of an awesome new Overwatch zine, a full explanation of the different types of health in Overwatch, our definitive ranking of every Overwatch hero, a roundup of awesome gender-bent Overwatch cosplay and a giant Overwatch FAQ for beginners.