An explainer of Luke Cage and Iron Fist's friendship ahead of 'The Defenders' release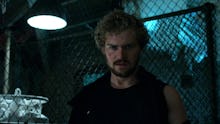 It's been nearly two years since the first season of Marvel's Daredevil was released on Netflix. Since then, Netflix and Marvel have partnered on a second season of Daredevil while also adding new series like Jessica Jones, Luke Cage and, most recently, Iron Fist. Prior to the release of Iron Fist, all of Marvel's Netflix series have received overwhelmingly positive reviews. The critics were not as kind to Iron Fist, though, which is on Rotten Tomatoes life support. 
Still, despite Iron Fist's critical drubbing, it's an important addition to Netflix in the lead-up to the highly anticipated The Defenders miniseries. This is because it introduces one of Luke Cage's most enduring allies: Danny Rand. In fact, it would almost be strange for Cage to appear as part of a team without the second half of the Heroes for Hire. 
While fans seemed to have enjoyed Iron Fist more than most critics — though that doesn't say much — it's not really a stretch to say The Defenders has some work to do to right the ship. And one way, perhaps, to improve upon Rand's negative reception is for the Marvel series to embrace his friendship with Cage, a character who was nigh universally beloved in his eponymous series. Plus, their friendship does go way back.
Power Man and Iron Fist
Cage and Rand each originally starred in their own comic book series, but in 1978, beginning with Power Man Vol. 1 #48, the pair began appearing in a shared title. Two issues later, Power Man was eventually retitled Power Man and Iron Fist, and the series explored the budding friendship and partnership between the two heroes. 
Their first appearance together was not necessarily a pleasant one, though. In fact, it saw Cage and Iron Fist engage in a battle that only ends when the former restrained himself from killing Rand. The fight wasn't due to any villainy on the part of either hero, but rather the manipulation of one of Cage's enemies. After Rand learned why Cage attacked him, the two eventually teamed up alongside Misty Knight and Colleen Wing.
In Power Man Vol. 1 #49, Iron Fist helped clear Cage's name from his prior stint in prison. It's possible Cage and Rand will meet under somewhat similar circumstances in The Defenders — as we know from Luke Cage, the man with unbreakable skin will start the upcoming Marvel series in prison. Maybe Rand even has something to do with clearing Cage's name?
Heroes for Hire
Cage and Iron Fist may be set to appear in The Defenders miniseries, but that's not the superhero team with which they're most closely associated from the comics, nor is it any incarnation of the Avengers. Rather, Cage and Rand are probably best known from their time leading the Heroes for Hire. 
The Heroes for Hire officially formed in Power Man and Iron Fist Vol. 1 #54 with the help of lawyer Jeryn Hogarth, who was renamed Jeri Hogarth and portrayed by The Matrix's Carrie-Anne Moss in the Netflix series. Heroes for Hire had a good run until it was disbanded in Power Man and Iron Fist Vol. 1 #125, during which Cage was accused of murdering Rand. It's a bit complicated, but it turned out Iron Fist was being impersonated by a plant-like organism in several issues, so in reality, Rand did not die.
The Heroes for Hire were briefly revived in 1996, with Cage and Iron Fist leading a team of other lesser-known Marvel heroes. Unfortunately, the series didn't last long. Since then, there have been several incarnations of the Heroes for Hire with a rotating group of heroes, not always including Cage and Rand. 
The Defenders
When The Defenders finally drops on Netflix — sometime over the summer — fans will get to see a certain dynamic between Rand and Cage. Mike Colter, who plays Cage, spoke with Entertainment Weekly in January about the pair's relationship. 
"[Danny Rand]'s a young guy," Colter explained. "There's an exuberance that Iron Fist comes with that Luke Cage wants to temper a bit."
Describing Rand's relative inexperience when compared to Cage, Colter said this of the heroes' relationship:
It can't help but have a wisdom-versus-youth quality ... Danny comes out like a bull in a china shop in some ways, and I think Luke has seen the world and knows certain things. It's a cool combination that'll work out.
"We definitely want to pay homage to the fanboys, but we want to make it make sense in this time period," Colter said about The Defenders including Heroes for Hire story arcs.
As for how, exactly, Rand and Cage's friendship will be explored onscreen, we'll have to wait for summer to find out. 
The Defenders is set to be released on Netflix in summer 2017. Daredevil seasons one and two, Jessica Jones, Luke Cage and Iron Fist are all streaming on Netflix.
Mic has ongoing coverage of The Defenders. Please follow our main The Defenders hub here. For coverage of past Marvel series, please follow our main Daredevil, Jessica Jones, Luke Cage and Iron Fist hubs.