'The Voice' Season 12: Who is on Team Gwen, Team Blake, Team Alicia and Team Adam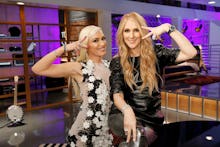 Things are now getting heated on The Voice as the show enters the "battle rounds" of the competition. 
NBC's reality competition series continues season 12 and some seriously talented advisers have joined the show's judges. Gwen Stefani, Alicia Keys, Blake Shelton and Adam Levine are this season's judges, and the famous mentors they've chosen to help their teams are some of the best the show has ever had. 
The mentors
On Monday's episode of The Voice, we were introduced to the team's mentors. 
Joining Team Gwen is Céline Dion. Team Alicia has brought DJ Khaled along. John Legend joins Team Adam and Luke Bryan is helping Team Blake. The mentors are there to guide each teams' contestants through the competition. Dion, Khaled, Legend and Bryan will voice their opinions on song selection, vocal styling and stage presentation. 
What's next?
The battle rounds continue on Tuesday's episode of The Voice, airing at 8 p.m. Eastern on NBC. A sneak peak of the episode reveals Johnny and Sammie taking on Dion's famous cover of "I Drove All Night."
Dion also took part in the rehearsal, of course, dancing, singing and tapping on the piano.
You can watch The Voice on Monday and Tuesday nights on NBC at 8 p.m. Eastern. If you missed an episode, you can stream them on on the NBC website. 
Mic has ongoing The Voice coverage. Please follow our main The Voice hub here.