Roman Polanski Sexual Abuse Case: The latest updates in the director's 40-year-old case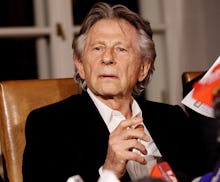 A Los Angeles judge is expected to rule on film director Roman Polanski's decades-old sexual abuse case within 90 days, according to CNN. 
Polanski — who fled the United States nearly 40 years ago after pleading guilty to unlawful sex with a minor — is seeking to return to the U.S. and not face any further jail time.
Harland Braun, the 83-year-old director's lawyer, argued during a hearing Monday that the 42 days Polanski spent in a California jail paired with the close to one year spent in jail or under house arrest in Switzerland during extradition proceedings should be considered time served. Braun also wants the court to lift the arrest warrant issued for Polanski in 1978.
But California Deputy District Attorney Michele Hanisee countered that the court should not give Polanski "special treatment" just because he is a "wealthy celebrity."
"This case is 40 years old because the defendant fled," Hanisee said. "Not only did he flee, he has fought all of the People's efforts to get him back to this jurisdiction."
Los Angeles Superior Court Judge Scott Gordon is expected to issue a written ruling within three months. 
Polanski's 40-year-old sexual abuse case
In 1977, Polanski — then 43 — apparently forced 13-year-old Samantha Gailey to have sex with him after giving her alcohol and part of a Quaalude pill during a photo shoot at Jack Nicholson's house.
The Chinatown and Rosemary's Baby director was indicted on six counts of felony, but those charges were dropped after he pleaded guilty to a charge of unlawful sex with a minor and was sent to a state prison for a 90-day diagnostic evaluation. He was released after 42 days.
Believing Judge Laurence Rittenband planned to ignore the plea bargain and sentence him to a longer jail term, Polanski fled to Europe on the eve of his sentencing and has not returned to the U.S. since.
Gailey, who now goes by her married name, Samantha Geimer, has publicly forgiven Polanski and spoken in favor of dismissing the case against him.
Braun argues that Polanski was "only intended to spend a short time behind bars" and that the director should be permitted to return to Los Angeles to visit the grave of his late wife, Sharon Tate, who was murdered by the Manson family in 1969.
But Hanisee argues that doing so would amount to "special treatment."
"The people simply do not believe it is in the best interests of justice to give a wealthy celebrity different treatment than any other fugitive from justice," Hanisee said.