'Power Rangers' star Dacre Montgomery is ready to be 'Stranger Things' season 2's villain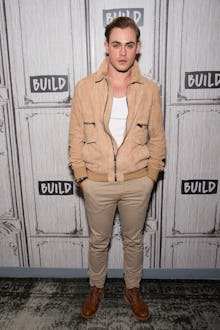 He may play the heroic Red Ranger in the upcoming feature film reboot of Power Rangers, but Dacre Montgomery is ready to embrace his dark side.
During a Facebook Live interview to discuss Power Rangers, Montgomery talked about his upcoming role on season two of Stranger Things, Netflix's sleeper hit series returning in October. Though he admitted to being under lock-and-key regarding details about the series, he did share his happiness to be working on the set — and his delight to be playing an antagonist this time around.
According to Variety, Montgomery will be playing Billy, "a charismatic Camaro-driving drinker [and] a classic girlfriend-stealing bad boy." The role is a hard right turn after playing clean-cut jock Jason in Power Rangers, but it's one Montgomery is ready for.
"I'm very fortunate to go from being a protagonist in this world to an antagonist in Stranger Things," the actor explained. "Playing the bad boy, and working with those amazing actors who made the first season of one of my favorites, has been really, really lovely."
Although he's stoked about being on the show, Montgomery isn't hopping on the bandwagon to get a selfie with the Stranger Things kids. Those photos may be all the rage, but Montgomery sees the actors as people, and sympathizes with all the attention they're receiving.
"I feel so bad about it," Montogomery said. "Their whole world is in the public eye. So for me, the biggest thing I can offer them is being the one person in their lives that doesn't ask for a photo."
Stranger Things season two will be released on Netflix on October 31. Power Rangers hits theaters nationwide Friday. Watch the full interview with Montgomery, as well as his co-stars Becky G and RJ Cyler, below.