A mission to Mars is a NASA goal under new law signed by Trump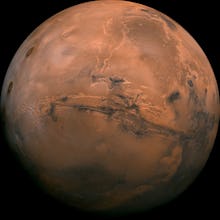 President Donald Trump has his eyes set on the red planet — but at the expense of Earth's environment.
According to the Associated Press, Trump signed the NASA Transition Authorization Act on Tuesday, which adds a human mission to Mars to NASA's agenda while also green-lighting a $19.5 billion budget for 2017. 
"This bill will make sure that NASA's most important and effective programs are sustained and orders NASA to continue ... transitioning activities to the commercial sector where we have seen great progress," Trump said as he signed the bill, according to the Verge. "It's amazing what's going on." 
As the Verge pointed out, the bill "essentially authorizes the space agency to keep doing what it's been doing for the past seven years." NASA will look to Elon Musk's SpaceX Mars project for support, according to Vice, which seems like a carryover from Barack Obama's time in office. 
In order to make good on his inaugural promise that we, as a nation, would "unlock the mysteries of space" together, some expenses will have to be trimmed. Mic previously reported that congressional Republicans proposed gutting NASA's Earth Science Division, which makes substantial contributions to climate change research, to make room for more space exploration. 
Trump's proposed budget would repurpose money from cuts to four Earth Science endeavors, most of them climate-related. 
The Earth Science Division isn't the only climate change-researching program that's getting Trump's axe. His administration is reportedly planning to cut 17% of the National Oceanic and Atmospheric Administration's budget, along with the majority of the Environmental Protection Agency's climate protection program. 
The deadline for a manned expedition to Mars is 2033 — that is, if Doomsday doesn't come first.