7 tricks to creating your dream "adult" apartment or house — without going broke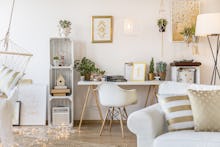 Whether you are buying or renting, you want your home to be an oasis — a place where you're proud to invite friends over and where you can show off your personal style. Unframed posters sticky-tacked to your dorm room walls may have been fine for college life, but your decor needs an upgrade now that you're a "real" adult with an awesome new apartment or house. Right?
Sure, but that might feel easier said than done, especially if your money is tight. Luckily, there are workarounds and solutions. For one, personalizing your pad will make it feel like home, and doing so means you don't need to spend a fortune to make it cozy or "grown-up."
Here are seven tips to get awesome digs fit for an accomplished adult — even if your budget is still pretty bare bones. 
1. Buy furniture that does double duty
Your first apartment may not be huge, and you may not be able to afford to buy tons of different furniture pieces. One way to address both of these problems: buy furniture that does double duty. 
Instead of just purchasing a couch, buy an attractive sofa bed. The pull-out can double as your "guest room" if you don't have an actual space to put guests or don't have the cash to buy a whole separate bedroom set for visitors. 
Instead of just a normal ottoman, opt for one with built-in storage. You save on storage costs, reduce ugly clutter, and eliminate the need for an additional dresser or cabinet. And in general, think creatively to find other "double duty" opportunities. Mirrors make small spaces feel big and if you find the right piece, they can serve as storage racks, clocks and more.
Also: Consider positioning your bed so your deep windowsill or wall-mounted shelf works as a nightstand; your crown molding could become a classy shoe rack; or you could use wicker baskets or a simple wooden ladder in your bathroom — both as a decorative touch and to store or hang towels.
2. Raid friends' and family's homes for cast-offs
One of the best ways to furnish your apartment without spending a fortune is to get stuff for free. Start by asking relatives if they have any extra furniture they want to unload — if you're lucky you might snag a family heirloom or antique. Old furniture that your grandma purchased 50 years ago is going to be of a much higher quality than newer pieces.
Next, put out the call to friends who may have cool items to unload. And if all else fails, don't be too proud to shop for freebies on Craigslist. If you don't like the look of some pieces, there are ways to tweak or modernize them.
Just be careful if you are picking up wooden items — which could harbor bed bugs — and avoid used mattresses. Some stuff is always worth buying new.
3. Hit up estate sales and thrift shops
Another way to get low-cost furniture and household items? Visit estate sales and thrift stores. Estate sales are held when people pass away or move. Often an entire household's worth of stuff is sold, from furniture to kitchenware to grown-up extras like antique cocktail bars and quality knife sets.
To find one near you, check out EstateSales.net or check local classified listings in your area. Go on the first day for the best selection or on the last day of the sale — when you can score discounts on everything that's left. 
Thrift shops are similarly great for plates, glasses and knick knacks. While some items may be pricey, you can always bargain for a better deal. Check out Pinterest for ideas on transforming cheap thrift store finds into treasures.
4. Give your pad a DIY upgrade
Hands-on homeowners (and renters) tend to have the best-looking places. Indeed, a few DIY skills go a long way toward making a house feel like home. Chalk paint, for example, makes it simple to paint almost any piece of furniture, since you can skip a lot of the priming and prep work that makes painting a hassle.
And switching out knobs on old cabinets and dressers gives them an updated look — without you having to purchase a whole new piece.
You can also tweak and revamp cheap furniture. Check out Ikea Hackers for ideas on combining Ikea pieces, incorporating add-ons and making modifications to turn dorm-style furniture into spendy-looking custom designs. A simple touch like a DIY headboard can elevate a blah bed to a sublime one.
All this sound like too much work? Try easy-but-charming DIY touches, like a mason jar soap dispenser, a vintage globe light, a patterned paper clock, a paintbrush vase, fork and spoon door pulls, a floating shelf, a map chair, and other creative ideas from aesthetics-focused publications like Country Living.
5. Know when to splurge
Identify a few core pieces of furniture you are willing to splurge on for the biggest impact. Buy a higher quality couch with a sturdy frame and hand-tied springs. Next, consider a statement piece that truly reflects your style.
"These are the pieces that you love, that you'll take with you when you move, that make your home feel like yours," Apartment Therapy describes. That's anything from a beautiful rug to unique wallpaper to a fancy shower curtain.
Other ways to splurge the smart way? Invest in gadgets that will seriously upgrade your place, like a Roomba (never vacuum again!), a slow-cooker, a French press, a high-quality showerhead, a dimmer for your lights and Bluetooth speakers. Your guests will notice — and appreciate it.
Still, know what's worth saving on: When buying spare-room furniture, side tables and extra dining chairs, for example, opt for lower-priced items.
6. Buy or make art — and frame it
Art on your walls is one of the biggest indicators your apartment is an actual adult apartment that you went through the trouble to decorate. Unfortunately, buying art can be really expensive, especially if you want framed pieces.
The good news is the internet is changing the game. There are countless websites where you can find cool, affordable art these days.
Plus, you can also make beautiful art for your walls all on your own — even if you aren't really very artistic. Decoist lists 25 DIY wall art ideas and Good Housekeeping has 12 tips for DIY canvas art. If you make your own art, you can truly personalize your apartment so it is one-of-a-kind.
One funky idea? Turn your WiFi password into a colorful sign or QR code — and print and frame that. That way your guests can easily access your WiFi without asking you for help. Form and function!
If you buy an inexpensive new frame or an old used frame, say, from an antiques store, you'll spend a lot less than going to a shop to have a piece custom-framed. Here is a guide to DIY framing for cheap.
Finally, remember that "art" can mean different things to different people. A shelf full of books organized by color can be just as dazzling as a painting.
7. Remember the details — because a little goes a long way
Accessories make a room. Real plants, matching pillows, pretty lamps and scented candles are the "jewelry" of your apartment — and can take your bathroom, bedroom or living room from boring to uniquely you. 
They're also totally inexpensive: Even dollar store candles or a bowl of sweets can set a romantic mood. Small plants — like succulents, bamboo and potted flowers — are affordable and, if you remember to water them and give them enough light, they'll become even more beautiful over time.  
Most consignment stores and thrift stores have a big selection of accessories for around the home, as do stores like TJ Maxx and Marshalls. Keep it simple at first to avoid a cluttered space, then slowly add to your home accessories over time — until you've created a house or apartment that feels just right.
Sign up for The Payoff — your weekly crash course on how to live your best financial life. Additionally, for all your burning money questions, check out Mic's credit, savings, career, investing and health care hubs for more information — that pays off.