Plus-size women stormed a train station in just bras and jeans to promote body positivity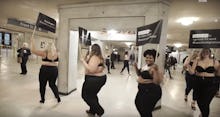 To ensure that you get heard, sometimes you just need to shut down a public train station. 
That's at least the thinking behind the plus-size retailer Penningtons' latest campaign, #IWontCompromise, which saw plus-size women of various sizes storming Union Station in Toronto, Canada, in just bras and jeans in February. 
They came carrying signs that encouraged people to take pictures of them, tweet pictures of them and even Snapchat it, all in an effort to get the hashtag #IWontCompromise trending, leading people to the #IWontCompromise website. 
According to the website, the #IWontCompromise movement is about breaking down barriers standing in the way of plus-size women. 
"[It] is about raising our voice against body prejudices," the website reads. "It is about not compromising on what you love or who you are just because it makes someone else uncomfortable. Plus-size women are often faced with discrimination against their size, so we pushed the boundaries. Making waves in the name of body-diversity starts with showing that plus-size women CAN do anything."
Yes, anything. From proudly walking around in just a bra and jeans to storming a train station while doing so. 
Per a model who participated in the train station takeover, which was also attended by plus-size model Tess Holliday, she felt compelled to participate because she wanted to show everyone who's ever bullied her over her weight that she's here to stand up for women like her, who deserve respect and deserve to respect themselves. 
"I wanted to show ... every person who's ever made me feel like I was less deserving of happiness or of love because of my size ...," the model, who's known as Hourglass Cath, wrote on Instagram. "... that I am taking a stand against body prejudices and that I will NEVER compromise myself ever again to meet someone's perspective on how my body should look."
Courtney Mina, another model who participated, wanted to do it for her own daughter, given that she's seven months pregnant right now. 
"This was such an empowering campaign, and one I was blessed to be a part of (and seven months pregnant, no less!) I can't wait to teach my daughter the values promoted by this campaign, that no matter your size or what your body looks like, you deserve to feel proud, beautiful and confident in yourself," she wrote on Instagram. 
You can watch the making of this takeover and campaign below: