'Mass Effect: Andromeda' Keri: Guide to flirting and romancing the Asari journalist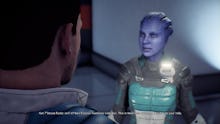 One of the best parts of Mass Effect: Andromeda is the opportunity to choose a romantic partner — or maybe multiple partners. There are a variety of characters to choose from either in your own squad, the Tempest crew and even off-ship entirely.
 If you're interested in Asari journalists, then we've got the character for you. This is how you can make Keri swoon in Mass Effect: Andromeda.
How to romance Keri in Mass Effect: Andromeda
Keri is one of the easier characters in the game to romance because she's kind of always available and often wants to talk. She comes into the game naturally as a journalist who is reporting on the mission. It starts out pretty professional, with her just asking questions related to your adventures. 
However, if you want to, you'll have the option to flirt at the end of each interview or even interrupt her questions with flirting. According to RPG Site, you'll be able to repeat this interview and flirting scene after pretty much every main story mission you complete. 
At the end of the interviewing plot line, you'll be able to hook up with Keri for a one-night stand kind of affair. This option will even be available if you're in an exclusive relationship with another character already because apparently Keri is always down. 
More gaming news and updates
Check out the latest from Mic, including our deep dive into how female Overwatch players are dealing with online harassment, a cool making-of video for Legend of Zelda: Breath of the Wild and an article about what a Bechdel test for gaming might look like.