How Brooklinen is upending and reinventing bedding for a new generation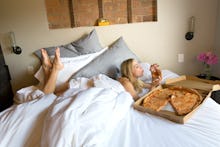 In early 2014, 28-year-old wife-and-husband team Vicki and Rich Fulop had an idea for a business that would disrupt the bedding industry. They launched a Kickstarter in April. Within eight days, they'd broken their fundraising goal of $50,000; by day 30, they had raised $237,000. Before producing or selling a single bedsheet, Brooklinen was an unequivocal success.
"People kept telling us, 'No one's gotten into this industry under the age of 50,'" Rich Fulop said with a laugh. "When people say that to you over and over, you start to think, 'Maybe there's an opportunity there.'"
Why bedding? "It's a space with absolutely no brand loyalty," he said. "We went to super high-end stores in Manhattan and then we went to the big-box stores and there was nothing in-between [price-wise] ... So we literally went to the stores, we went to coffee shops, we went to bars, we went to places that we thought our customer was hanging out and they didn't know what was coming at them."
It was there, rather than traditional market research or focus groups, that they asked potential customers about where like where they shop and what sorts of stuff they buy online. From there, they learned $100 seemed to be the sweet spot in terms of the price limit this potential customer was willing to spend on bedding.
They had hooked the customer; from there it was time to perfect the product. "We went to the bookstore and bought books on weaving, very exciting stuff," Rich Fulop said. "We had to learn; we didn't want to look like jackasses when we went to the factory and were talking about samples and weaves."
Then came the name: "My wife and I went to a party and we met some acquaintance and she was wasted. And she said, 'What do you do for a living?' And we said, 'We're working on a startup, it's linens in Brooklyn,' and she put it together, she's like 'Brooklinen!' And we're like, 'Oh, domain's available, let's just do it."
Nearly three years since the Kickstarter's launch, Brooklinen is heading to the big leagues, having just finished raising $10 million in series A funding.
"We know our core customer," Rich Fulop explained. "We know they just want to be comfortable. They don't want to sweat at night. They want something soft. ... There's no tricks here. It's just awesome. If you don't love it, send it back and we'll give you your money back."
Mic sat down with Brooklinen CEO Rich Fulop to get the full skinny on his business and what lies ahead for the company.