'Iron Fist' whitewashing controversy: Marvel comic creator doesn't see the problem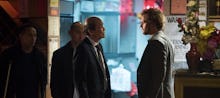 Iron Fist, the latest Netflix adaptation from the Marvel universe, was released on Friday to poor reviews. Criticism of the show's plot, story and casting abounded, but an interview with Roy Thomas, the original co-creator of the Iron Fist character, sheds new light on some of the issues surrounding the series. 
The wrong word
Thomas, who was editor-in-chief of Marvel from 1972 to 1974, shared his frustration with political correctness and cultural appropriation in a candid and long-winded interview published in Inverse. He said people had been complaining for years about whitewashing "and crap like that", adding he has "so little patience for some of the feelings that some people have."
"I try not to think about it too much," he said. "... I mean, I understand where it's coming from. You know, cultural appropriation, my god. It's just an adventure story. Don't these people have something better to do than to worry about the fact that Iron Fist isn't Oriental, or whatever word? I know Oriental isn't the right word now, either."
Casting controversy 
One of the first criticisms Iron Fist faced was the casting of Finn Jones, a white man, as Danny Rand — the wealthy heir of a family business who returns to New York from K'un-Lun, where he trained as a martial artist. Rand is a white man in the comics, but many fans called for a break from the canon and support for more diverse representation onscreen. 
Iron Fist's release comes at a time of heightened awareness regarding diversity in Hollywood, especially regarding casting white actors in Asian roles. 
Thomas appeared dismissive over the concerns of race and diversity because he said he did not consider Iron Fist offensive. "If something is really racist or degrading to a sex or race, an ethnic group or something like that, that's something else, but Iron Fist isn't that and never has been. It's all about a fictitious race, a fictitious place like a Shangri-La, and one person who happens to be its emissary. There's no reason why he can't be Caucasian." He also discussed the "righteous indignation" held by people with "too much time on their hands." 
Thomas appeared to change his tune later in the interview, telling Inverse, "I did want to reach out to all races." 
Critics' response 
Iron Fist, which currently holds a 19% rating on Rotten Tomatoes, received negative reviews. Mic's Miles Surrey called it a "flawed, clichéd series" and said the pacing and plot were disappointing. 
"Would you want a show about a martial arts master with a super-powered punch to focus on his company shares and financial future, or do you want to see him, well, punch people? If you — inexplicably — chose the former, you'll enjoy the early episodes of Iron Fist," he wrote. 
Blame it on Trump
Jones responded to critics of the show, crediting its frosty reception to President Donald Trump, of all people. Comparing his character, a wealthy white man, to the poorly-reviewed president, he told the Radio Times, "We filmed the show way before Trump's election, and I think it's very interesting to see how that perception, now that Trump's in power, how it makes it very difficult to root for someone coming from white privilege, when that archetype is public enemy number one." 
He also took to Twitter to comment on the casting controversy, which sparked further debate after he retweeted a speech from Riz Ahmed, an actor in Rogue One: A Star Wars Story, about representation in film. 
While Jones' social media actions backfired, he has at least expressed his concern on the subject, which is more than can be said of Thomas, who told Inverse, "... People are just too damn particular, they're just too damn sensitive for their own good or anybody else's. But then I really don't have much sympathy at all to trigger warnings or any of that crap. I think it's overdone and nobody but a baby needs it, an intellectual baby."
Mic has ongoing Iron Fist coverage. Please follow our main Iron Fist hub here.