How many episodes of 'Iron Fist' did Netflix users binge watch over the first weekend?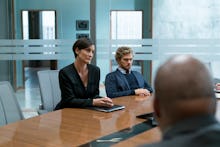 When the Devil of Hell's Kitchen first appeared on Netflix, viewers couldn't wait to see the action. Approximately 97.2% of all Netflix users watched at least one episode of Daredevil season one when it was first released. But when it came to Iron Fist, viewers were far less enthused to watch Danny Rand punch his way back to New York. But exactly how many episodes of Iron Fist did Netflix users actually watch over the first weekend?
According to data provided to Mic by data analytics company Jumpshot: not a lot. Below, we break down how many episodes Netflix users got through Iron Fist within the first 48 hours of its release. 
One episode
Iron Fist dropped on Netflix Friday, March 17, and over the next two days only 74% of Netflix users tuned in to see Danny stroll barefoot through New York City — a stat that could be due, at least in part, to criticism that plagued the series ahead of its release. Interestingly, actor Finn Jones, who plays Danny Rand, blames President Donald Trump for the series' poor reception.
Two episodes
Viewership dropped off sharply after only the first episode, with a mere 18% of Netflix users bothering to stick around for episode two. The earlier episodes of Iron Fist focused heavily on Rand struggling to regain control of his father's company, which rightfully belonged to him upon his return from K'un-Lun. Compared to other Marvel Netflix originals, which featured a little more action from the start, the early episodes of Iron Fist are relatively dry — a point Twitter users quickly harped on.
Three episodes
By the third episode, most Netflix users had all but given up on Iron Fist, with a measly 5.7% of the Netflix population making it this far. 
Four episodes
If you made it to episode four of Iron Fist over the weekend, you are in an elite subgroup of binge watchers. While 74% of Netflix users were willing to give the first episode of Danny Rand's story a shot, only 1.6% watched up to episode four.
More than four episodes
It takes a true Iron Fist fan to have watched beyond episode four over the weekend. If this is you, be proud — only .7% of Netflix users are among your ranks.  
Mic has ongoing Iron Fist coverage. Check out our main Iron Fist hub here.