Nico Hines breaks silence on controversial 'Daily Beast' Grindr story: "I am deeply sorry"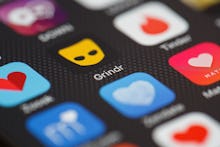 Seven months after writing an article that potentially put several LGBTQ Olympic athletes at risk, Daily Beast writer Nico Hines has issued an apology for the article, which he says "never should have been conceived, written or published." 
In his apology, Hines acknowledged he wrote about people without their consent and "did not advance the public good." 
In the original article, Hines published the stats — height and weight — as well as country of origin of several athletes he claimed to have met up with on the geolocation dating app Grindr at the 2016 Rio Olympics. Some of the athletes, as Hines described them, were from areas in central Asia with "high levels of harassment, violence and discrimination" toward LGBT people. 
"The article intruded into the lives of people who had a right to be left alone," he wrote. He admitted the piece mired in tired stereotypes about queer sexuality and he didn't represent himself accurately during the reporting, which he called "profound failures." 
"The lens of privilege distorted my worldview," he said. "Before writing this story, I didn't appreciate what 'check your privilege' truly meant."
The apology, and the appended editor's note, reveal Hines had been suspended from his role as staff writer for seven months, during which underwent a "period of intense reflection." 
The publication of the piece was met with immediate biting criticism on Twitter, where LGBTQ people reminded Hines and Beast that this type of journalism benefitted no one and put queer people in harm's way. 
On Tuesday, people on Twitter were not too welcoming to Hines' apology. Many people online labelled the apology as lacking substance and seven months too late. 
Hines closed his apology by saying he "will not get it wrong again." While it's impossible to judge his sincerity, time will tell whether that statement holds water. For now, Hines at least knows his ethics have been called into question and Gay Twitter is watching his every keystroke.