Nintendo Switch Restock: GameStop stock update — how to guarantee your purchase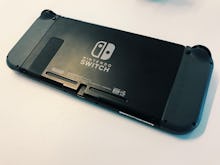 The Nintendo Switch stock situation is surprising to few. Nintendo continues to make systems that essentially print money for the company, yet can't produce enough of them to fulfill demand. 
Just look at the NES Classic from a few months ago. Even though Nintendo promised us that Switch stock availability would not resemble past launches, fans have still had trouble purchasing the new console. For a brief moment on Wednesday, however, that will change.
GameStop has announced an official Nintendo Switch restock will come to stores on Wednesday, March 22. If you're in the market for a Switch, this is your best bet. Here's how to prepare.
Nintendo Switch GameStop Restock: When the Switch will be in stock and how to get secure yours
First things first, call your local store. When we called GameStops around New York City, each store was pretty candid with the number of Switch units they'd be receiving. Some GameStop stores said five, others said 10. Some said they'd be attaching the console to bundles, others said they'd sell the console on its own.
Unlike during the March 3 launch, these GameStop stores will not be open at midnight for fervent Nintendo fans. However, because the consoles will be first-come-first-served, some buyers in your town or city may line up overnight to guarantee they're first when the store opens in the morning. So if you're hoping to walk into the store at a reasonable hour and pick up a Switch you're probably out of luck.
GameStop is also knocking some of the cost off the price if you trade in an older console. So you can prep by packing up your old Wii U. Make sure to delete the hard-drive, backup any saves and remove any discs from the system before saying goodbye forever.
Nintendo Switch Restock: Will Amazon, Best Buy, Walmart and the others have consoles too?
GameStop isn't the only store selling the Nintendo Switch. What about the other major retailers?
The main place one would expect to find available Switch units is Nintendo's own retail store, but according to the store's Twitter account, it's sold out. The Switch went on sale at 3 p.m. on Tuesday and was entirely sold out by around 3:45 p.m.
Toys R Us said via email it has "nothing to share at the moment." Mic also reached out to Amazon, Best Buy and Walmart and are awaiting comment. We'll update this post when we hear from one or all of the three.
Check out more Nintendo Switch news and coverage
Looking for more Nintendo Switch news? Learn why the Switch cartridges taste so bad. Check out our comparison photos sizing up the Switch to the Wii U GamePad (part one and part two), find out how to make use of ethernet without the dock and the best way to get alerts when new stock arrives.