The latest in Trump-Russia news: Manafort's hot seat, Maxine Waters' crystal ball and more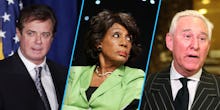 While you were going about your day, here's the latest on what people are saying about President Donald Trump and Russia — from investigations into links between Trump's campaign and the Kremlin to Democrats' attacks.
Topline Item: The Manafort saga continues
A member of Ukraine's parliament just released a trove of documents he claims show former Trump campaign manager Paul Manafort tried to cover up illicit payments from a pro-Russian party in the eastern European country. According to the New York Times, the documents allegedly show Manafort funneling $750,000 in payments through an offshore account, disguising it as a payment for computers.
Here's the Manafort backstory that got us to this point:
• During the campaign, a secret ledger was uncovered that appeared to show Manafort receiving millions of dollars in off-the-books payments from the now-ousted government of Viktor Yanukovych — an ally of Russian President Vladimir Putin. Shortly after that revelation, Manafort stepped down from the campaign.
• In January, the infamous unconfirmed "dossier" from former British intelligence officer Christopher Steele alleged that Manafort played a key role in managing communication between Russia and the Trump campaign.
• In February, a New York Times report citing anonymous intelligence sources alleged that Manafort was one of several Trump campaign officials who had been in frequent phone contact with Russian intelligence officials during the campaign.
• Later that month, Politico reported that hacked text message conversations from the phone of one of Manafort's daughters appeared to show an attempt by Ukrainian parliament member Serhiy Leshchenko to blackmail Manafort over evidence of his alleged payment scheme. Though Manafort confirmed that the texts were real, he denied the allegations. Leshchenko also denied having ever tried to blackmail Manafort.
Now, that same member of the Ukrainian parliament is claiming he has evidence of Manafort's attempt to hide secret payments from the pro-Russia former Ukrainian leader. Politico also reported last night that Manafort is being sought for questioning by the Ukrainian prosecutor general, but that the Justice Department has repeatedly ignored requests by the Ukrainian government to question Manafort.
Impeachment watch
Early Tuesday morning, Rep. Maxine Waters (D-Calif.) cryptically tweeted "Get ready for impeachment."
Waters' tweet comes just days after Sen. Dianne Feinstein (D-Calif.), a ranking member of the Senate Intelligence Committee, told supporters that she thinks Trump will "get himself out" of office.
Tillerson to snub NATO
Monday night, just hours after FBI Director James Comey confirmed there is an investigation into the Trump campaign's ties to Russia, officials disclosed that Secretary of State Rex Tillerson will skip the first NATO meeting of the Trump era and visit Russia instead, Reuters reported.
One of the allegations in the British spy's unconfirmed dossier is that Russia had released leaked emails from Hillary Clinton's campaign in exchange for the Trump campaign criticizing NATO and de-emphasizing Russian incursions into Ukraine.
The curious case of Roger Stone 
A recent New York Times profile of Roger Stone, former Trump adviser and long-time friend of the president, lays out the eccentric operative's defense against accusations that he is part of the alleged connection between Trump and Russia. 
Stone, an old friend of both Trump and Manafort, tweeted just before the release of Clinton campaign manager John Podesta's hacked emails "Trust me, it will soon the Podesta's time in the barrel."
The grammatically awkward tweet, along with Stone's self-professed relationships with both Wikileaks's Julian Assange and the hacker Guccifer 2.0 who FBI investigator's believe to be a Russian front, have led many to speculate about Stone's potential involvement in the leaks.
During Monday's hearing with the FBI and National Security Agency directors, Stone appeared on the online radio show of another conspiracy theorist, Alex Jones and — dressed like an actual super villain — called the allegations against him "McCarthyism," adding that he was "jonesing" to talk to the House Intelligence Committee and prove his innocence. The "McCarthyism" charge was particularly rife with irony: Stone first met Donald Trump through their mutual friend Roy Cohn, the top aide to the actual Joseph McCarthy.
Stone claims that his tweet had been in reference to a story about Podesta that he had planned on releasing himself. But Laurel Raymond at Think Progress has identified a major flaw in that argument. The story Stone wrote and published on his website, which has since been taken down, came out after the Wikileaks release and heavily cites the leaked documents throughout. If Stone had not known about the Wikileaks dump, how could he have been teasing a story based on them?