Jared Kushner's family is adding a massive phallus to the NYC skyline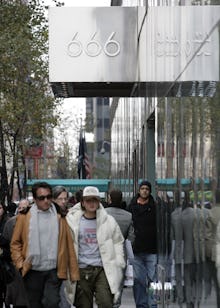 Presidential son-in-law Jared Kushner's family is in the process of building a big, tall, impressive, definitely-not-at-all-compensating-for-anything Manhattan skyscraper — but his relationship to the White House makes the building plans a little more questionable.
As the Wall Street Journal reported on Tuesday, the Kushners have been planning to convert the family's property at 666 Fifth Ave. in Manhattan into a mixed-use skyscraper for years. When the Kushners first purchased the building for $1.8 billion in 2006, the deal broke records. At the time, Jared Kushner was 25 and a principal at his family's real estate company.
Now, the Kushner family is in talks with investors to realize their plan of turning the building into a massive skyscraper, adding 40 floors that would house "ultraluxury" condos priced at around $6,000 per square foot, a hotel and retail space by 2025. They would also rebrand the building as 660 Fifth Ave.
Here's where things get complicated: One of the potential investors in the project, the Journal reported, is Anbang Insurance Group, a massive Chinese company with "connections to the government in Beijing." Anbang is reportedly planning to fund up to half of the $2.5 billion in equity needed for the project.
But conflicts of interest abound, considering Jared Kushner's close ties to the White House. Even though Kushner no longer owns his stake in 666 Fifth Ave. — as he sold it to a trust controlled by his family — his immediate family still controls the project. 
And, considering his role advising his father-in-law, President Donald Trump, on foreign affairs, along with reports that foreign diplomats see Kushner as a direct path to Trump, critics are concerned that this real estate deal could curry favor for Anbang in the White House, the Journal reported.
A spokesperson for Anbang told the Journal that, as of Tuesday, the company had no investment in the property — noting that "any suggestion that Anbang has signed a contract or made any kind of financial commitment is inaccurate."
Of course, people on Twitter were quick to call out Kushner — not as much for the ethical issues at play as for the fact that his family's proposed building is, well, familiar-looking.