'Iron Fist' premiere was the least-watched Marvel Netflix original to date. Here's why.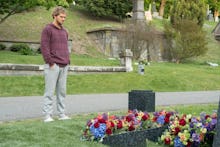 The numbers for Iron Fist's premiere are in, and it turns out it was a bad opening day for Danny Rand and co. 
Marvel's newest superhero series, Iron Fist, was officially the worst-performing Netflix original premiere of its kind to date, garnering less views during its first 24 hours than Daredevil season one, Jessica Jones and Luke Cage, according to data provided to Mic by Jumpshot, a data analytics company.
So what happened? Why did so few Netflixers tune in to see Rand and his glowing fist punch his way through hordes of Hand minions? There's myriad factors that likely contributed to the failure of the critically panned series, but a few stick out above the rest. 
Iron Fist suffered serious backlash from the moment Finn Jones was cast as the series' titular character all the way up until the series' release on Netflix. Many expressed outrage over Marvel's missed opportunity to cast the traditionally white lead character with an Asian actor, while others simply felt Iron Fist was a flawed and clichéd series not worth watching in the first place. Saturday's NCAA tournament could have also pulled potential viewers away from the superhero series. 
Standing on the shoulders of Marvel's other Netflix superhero series, Iron Fist should have been a huge success, but it wasn't. Here's the breakdown of exactly how the Iron Fist premiere stacks up to the other Marvel Netflix original premieres and an in-depth look at the factors that may have contributed to its tanking.
Iron Fist vs. the other Defenders
Everyone loves Daredevil, at least Netflix's version of him. When Daredevil season one first dropped in 2015, an astonishing 97.2% of all Netflixers tuned in within the first 24 hours to see the Devil of Hell's Kitchen bring the hurt to the criminal underworld. It was the first, and is still by far the most-watched Marvel Netflix original premiere that has graced the streaming service. 
Iron Fist's premiere, on the other hand, was rather underwhelming, drawing 25% fewer views than Daredevil's premiere. Jessica Jones ranks just a few points ahead of Iron Fist with 22% fewer views than Daredevil's premiere, while Luke Cage sits in second with only 11% fewer views than Daredevil's premiere, according to Jumpshot. 
The whitewashing controversy
When the world first discovered the lead role of Iron Fist had gone to Jones, a white man, many were left wondering why Marvel opted to stick to the original canon instead of breaking free of the comic's archaic, white savior trope. Asian-American actor Lewis Tan was considered for the role of the Iron Fist, but sadly he was cast as villain Zhou Cheng instead. 
Finn later tried to show his support for representation by retweeting a speech from Rogue One: A Star Wars Story actor Riz Ahmed, but that only seemed to add more fuel to the already blazing fire, with many Twitter users bemoaning that was exactly why having an Asian-American Iron Fist was so important.
Adding further insult to injury, Roy Thomas, the creator of the original Iron Fist character, lashed out against those concerned with the Netflix series' cultural appropriation.
"... My god. It's just an adventure story. Don't these people have something better to do than to worry about the fact that Iron Fist isn't Oriental?" Thomas said during an interview with Inverse.
Despite its cultural failures, there is some light at the end of the Iron Fist tunnel — if Marvel and Netflix play their cards right, they could take a step towards a better direction by pairing Luke Cage with Rand and focusing on the Iron Fist's mystical elements in the second season.
A tired plot
Critics were less than pleased with Iron Fist, with Rotten Tomatoes scoring the series with a paltry 18% rating. Compare that to their Daredevil season one rating of 98% and the contrast proves quite stark indeed. Of course, Jones believes President Donald Trump is to blame for the series' poor ratings. But what specifically was so bad about Iron Fist's plot and characters? In a word, everything.
For starters, the first half of Iron Fist focused more on Rand seeking to regain control of his company than anything else, which proved for a yawning viewing experience. That might have been a workable plot point, if Rand's character had evolved throughout the process — he didn't.
"The dialogue, the action, the fact that Meachum family drama takes up at least half of the show's real estate — there are several contenders for 'worst in show,'" IGN's Matt Fowler wrote of the series. "But the fact that the series, truly, never figured out who Danny was as a character, and seemingly tried to figure it out as the show went along instead of ahead of time, was the most problematic overall."
Another major flaw in Iron Fist is the lackluster and entirely repetitive writing. Vox's Alex Abad-Santos notes the series' formulaic dialogue:
CHARACTER 1: You did [insert something that the audience just saw happen].
And this says nothing of Iron Fist's clichés, which range from stereotypical New Yorker-speak to eye-rolling moments of self-realization.
The NCAA Tournament
Since we're measuring Iron Fist's success, or lack thereof, based on its viewership within the first 24 hours of its release, it's only fair to note the NCAA Tournament took place during this timeframe. Granted, it's unlikely this stole a statistically significant number of viewers away from watching Iron Fist, but still.
Iron Fist was practically DOA
Due to it's whitewashing controversy, Iron Fist faced serious hurdles early on; the many negative reviews published before it dropped on Netflix only served to compound the issue. It was a one-two punch that put Iron Fist on the ropes, and when viewers got to see Iron Fist for themselves, Danny Rand was all but knocked out for good.
Here's to hoping for a better season two.
Mic has ongoing Iron Fist coverage. Please follow our main Iron Fist hub here.