'Real Housewives of New York City' Season 9, Episode 1 Recap: There's a change in the air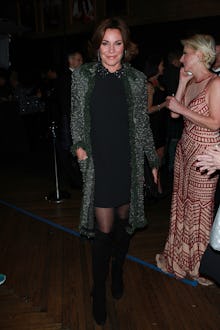 The women of the Big Apple are back in the season nine premiere of the Real Housewives of New York City.
As the Real Housewives regroup after the shattering events of season eight, everyone has returned a little altered. After all the explosive accusations, secrets and not-so-little-lies last season, the ladies are a little wounded.
In season nine, episode one, the group is fractured after last season when Bethenny Frankel and Luann D'Agostino (then Luann de Lesseps) had their big falling out. For those who missed it, Bethenny received a photo of Luann's then-fiancé-now-husband Tom D'Agostino cheating on her. It shattered the group and caused for the most dramatic season yet. 
The season nine premiere opens with Dorinda Medley and Luann going for a very casual walk in the park, as we're sure these old friends do. They catch up and immediately begin to discuss which of their fellow cast members are invited to Luann's upcoming wedding. Luann is about to get married to Tom and she's making her guest list of 250 people and checking it twice. 
Of that long list of lucky guests, Dorinda is the only one of the women invited to the wedding. It was also confirmed that ex-cast member Jill Zarin also managed to snag herself an invite. "The others, frankly, I can't trust that there will be no drama," Luann says honestly when defending not inviting the other women.
"I want only positive energy around me and I don't feel that way about the other women," she continues. Dorinda asks if "you know who" is coming, referring to Sonja Morgan — it looks like Sonja has caused some trouble in between seasons. According to Dorinda, Sonja is discussing her finances and personal issues behind her back.
We catch up with Sonja, who is in rehearsals for an off-broadway play called Sex Tips for Straight Women from a Gay Man. From Cate Blanchett to Glenn Close to Sonja Morgan, the stages of New York City are filled with A-list talent. 
"I was very surprised to get a call to do off-Broadway, but I am known for my bawdy sense of humor," Sonja says. One can never forget her "caburlesque" performance in season six that was truly a moment. It's revealed none of the other women watched the future Tony-hopeful in her most recent performance and it seems none of them have any plans to. 
Bethenny is currently in between two apartments. She's trying to sell her old apartment that she shared with her estranged ex-husband Jason Hoppy while living in her new one. 
"The millions of dollars that I spent, I don't even care, I just want to sell it and get rid of it," Bethenny says of her old place. In classic Bethenny form, she sells the apartment before the end of the episode and gets full asking price — in cash. 
While her old apartment gives her the "Case of the Ex" vibes, she is settled in her new apartment and looks completely at home. She also changed her hair color, which we're assuming is because she agreed it was really looking a lot like Luann's after last season. Bethenny has also adopted two dogs she is currently crate training. She named them Biggie and Smalls because of course she did. 
Then there's Carole Radziwill, whose hair might be looking a lot like Bethenny's because she has adopted two pets as well. Two cats, in fact. Carole stops by Bethenny's for a drink and the two get on the topic of the election. Since this season was filmed last year during the election, it's a timely topic of conversation for the women. 
You can always tell which friendships are genuine and which are not in how the women greet each other after the time off in-between filming seasons. It's obvious Bethenny and Carole are friends when the cameras are not around based solely on Bethenny's reaction to Carole's obsession with who could win the election — she's over hearing about it. 
Near the end of the episode, Ramona Singer and Luann meet for an awkward drink. The two are not on good terms and haven't been for a while. 
Apparently, Ramona has spent the time between seasons fishing around for more dirt on Tom. That is the spin-off show we would like to see. Ramona Singer Solves Your Big Little Lies, a half-hour show in which she just texts people for information. 
During drinks, she hints at having some other information on Luann's future husband and she doesn't understand why Luann is still with him. Ramona and her hair extensions just want Luann to be happy and Luann just wants Ramona to stop trying to be a detective.
The women of New York have a lot of work to do in regards to repairing their group. Friendships have been fractured and alliances have changed and we're putting all the blame on Tom. 
You can catch the new season of the Real Housewives of New York City on Bravo on Wednesdays at 9:00 p.m. Eastern.
Mic has ongoing Real Housewives coverage. Please follow our main Real Housewives hub here.