Marijuana Lube: Recipes, reviews, benefits, where it's for sale and what to look for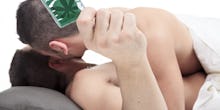 With 63 million Americans now living in states where recreational marijuana is legal, the weed industry is churning out countless new products for first-timers and veteran stoners alike. A typical dispensary could sell everything from THC-infused chocolate and microdose mints to pot concentrates and weed soda.
Among these novelties, you may also find marijuana salves and creams, meant to be applied to (and absorbed by) your skin. These cannabis topicals, as they're called, are ideal for relief from localized pain and inflammation, and since they're largely nonpsychoactive, they don't actually get you high. 
But one topical in particular seems to have captured our imaginations, and it's not hard to figure out why: The very combination of the words "marijuana" and "lube" hint at some interesting possibilities. If your curiosity is piqued — and you know it is — then read on to explore this new frontier in stoned sex.
What is marijuana lube, exactly?
At the moment, there are two major brands of cannabis-infused oils marketed as aphrodisiacs: Foria and Bond. Foria bills its flagship product, Foria Pleasure, as an "all-natural sensual enhancement oil designed specifically for women," while Bond calls its product a "sensual oil."
In both cases, the liquid itself is a combination of refined cannabis extract, derived from the ?ower of the marijuana plant, and regular coconut oil. The lube comes in a sleek little spray bottle.
In essence, Foria and Bond just added cannabinoids — the compounds in marijuana that tend to make us feel soothed, relaxed and even a bit tingly — to a familiar coconut base for sex or massage oil. It may also be worth noting that neither is considered a traditional lube per se, since facilitating intercourse is not its main function, though they both provide added moisture for penetration. 
In looking for similar products, you may stumble across stuff that sounds more or less the same, but there's always a catch: This "Blueberry Kush Cannalube," for instance, is "made with natural hempseed," which typically contains very little if any THC, the active cannabinoid in Foria and Bond. Meanwhile, a spray like Sextiva is also hemp-based but designed to deliver a different cannabinoid, CBD. Either may help with copulation, but they won't have the same effects described by reviewers below. 
How do you use marijuana lube?
First off, this may be a good time to mention that neither Foria nor Bond's products have been evaluated for safety by the Food and Drug Administration, so we only have the company's own claims and user feedback to go by. 
That said, both brands recommend four sprays of their oil directly onto the clitoris and inner and outer labia, working it into the vagina and allowing 15 to 30 minutes before sex for maximum absorption.  
These oils are also considered safe to take orally — again, that's according to the companies — though a few sprays in your mouth will apparently result in the sort of head high associated with regular marijuana use. This applies to oral sex as well: Anyone going down on you after you've dosed your privates with cannabis oil is likely to find themselves getting a bit stoned.  
So far, we haven't seen public reports of any problems with using cannabis oils in these ways. The biggest risk, it seems, is latex condoms. The websites for both Foria and Bond caution that their oils are not latex-safe (as in, the latex could weaken and break) so either go for polyurethane condoms or a different form of contraception entirely. If you're using weed lube for a solo session, though, you have nothing to worry about on that front.
What are the intended effects of marijuana lube? 
Here's what it actually feels like.
Reviews and testimonials of the marijuana lube experience are abundant, many of them quite positive, mentioning pleasantly warm sensations, focus, pain relief and overall enhancement of arousal/pleasure. 
One user said: "An orgasm with Foria feels like the most amazing thing your body has ever felt in your whole life." Another reported that "[w]hen my stoned vagina was being touched/licked/penetrated/etc. there was an increased awareness of all the sensations. It feels lovely, really, but it's not extreme." One Vice writer experimented with taking Foria orally with great success, though a Broadly reporter who drank an entire bottle (450mg of THC) had a nightmarish experience. You're not really supposed to do that, in case it wasn't obvious.
By and large, women who only apply Foria or Bond to their genitals do not report feeling cerebrally "high" — instead the effects are localized to where the oil was used, as with any other cannabis topical. Naturally, however, the individual responses to these cannabis oils can be as varied as responses to marijuana itself. So it's probably best to know how your body tends to react to THC before you experiment with rubbing it onto the most intimate area of your anatomy.
Where do I buy marijuana lube?
The sale of Foria and Bond products are currently restricted to just a few states, thanks to the enduring federal prohibition of marijuana and its thorny legal ramifications for weed companies. Bond, which is a product of Botanica Seattle, is only available in the state of Washington, where recreational weed is legal — here's a map of the dispensaries that carry it. Foria is sold in Colorado, another recreational weed state, and in California (but only to those with a medical marijuana recommendation), and has its own store locator tool. California residents can actually have Foria products delivered via online order — but, again, only with a medical marijuana rec.
If you don't live in one of those three states, it's still possible to buy related products elsewhere, but generally only in states that have legalized recreational marijuana. In Oregon, for example, you can get ahold of a Cannabis Cure-All from Luminous Botanicals. This oil is made to be taken orally or applied like a topical, and while it's marketed as a general feel-good tonic, the website notes that it can also be "applied by both men and women to enhance sensual pleasure." They even offer new oil blends under the label Dew, specifically formulated for sex and packaged in spray bottles like Bond and Foria.
Can I make my own marijuana lube?
Just as people continue to make their own weed-infused "baked goods," not a few have tried their hand at whipping up their own marijuana topical for the bedroom. Even if you can't acquire one of the products mentioned above, it's time to assemble all the ingredients in your kitchen.
The most crucial ingredient, as you'd expect, is the marijuana: Recipes call for anywhere from two grams to half an ounce, but you can adjust as needed. You'll also need some kind of base oil; most recipes suggest extra virgin coconut oil, à la Foria and Bond, but High Times has instructions for using avocado oil, and MCT oil seems to work well, too. Beyond that, you can add your own desired flavors.
Generally speaking, all one needs to do is heat the base oil until it completely liquefies, then cook the finely ground cannabis in it at a low heat so that it absorbs the THC and other cannabinoids. Then you strain the actual weed out of the mixture, leaving just a cannabis-infused oil that works as lube.
For those who want to try something a little fancier, consider making this "love butter" from a recipe that became "far and away the most popular" post on a cannabis cooking website called Wake & Bake. Here, your cannabis-infused coconut oil is added to either shea butter or cocoa butter as well as sunflower or grapeseed oil and a few drops of your preferred aromatherapy oil. The result is a thick, whipped, "luscious" topical that tastes great and kicks sex up a notch. The author indeed cautions the first time she and her partner tried it, she got pregnant — so yes, "it's baby-makin' good."  
So there you have it. Now that you know how it works, how to use it, where to find it and a few ways to make it yourself, marijuana lube is sure to become a fun addition to your sexual repertoire. What ero innovation will horny stoners think of next? That's anybody's guess — but we can't wait to find out.