Donald Trump will travel to Brussels for NATO Heads of State and Government summit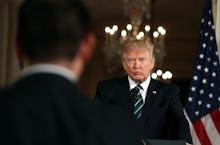 President Donald Trump will attend a North Atlantic Treaty Organization heads of state meeting in Brussels, Belgium, in May, the White House announced late Tuesday.
"The President looks forward to meeting with his NATO counterparts to reaffirm our strong commitment to NATO, and to discuss issues critical to the alliance, especially allied responsibility-sharing and NATO's role in the fight against terrorism," the administration said in a statement.
Trump will also host NATO Secretary General Jens Stoltenberg in Washington on April 12 for a sit-down about "how to strengthen the alliance to cope with challenges to national and international security," the White House said.
The announcement came after a controversial decision to have Secretary of State Rex Tillerson skip the first major NATO foreign ministers' meeting of his tenure, but to visit Russia shortly afterward — even as the FBI looks into possible ties between the Trump campaign and Russian agents.
As Reuters reported Monday, the original plan was for Tillerson to stay stateside for a visit from Chinese President Xi Jinping. According to Reuters sources, NATO offered to adjust the date of its meeting to accommodate Tillerson, but the State Department wasn't interested.
The move "frustrated allies and left analysts scratching their heads at an administration that once again is rubbing Europe the wrong way and raising questions about its commitment to its Western allies," CNN noted.
On Tuesday, Tillerson proposed new dates for the NATO talks.
Trump has long hammered away at the argument that the U.S. must focus on "America First," including curbing foreign spending. 
As president-elect, he raised questions about having an unwavering commitment to defending fellow members of the alliance and also went so far as to call NATO "obsolete."
During a recent joint appearance with German Chancellor Angela Merkel, Trump insisted, "I am not an isolationist," although he was speaking more specifically about free trade at the time.