Mexico is warning Mexican companies not to help build Trump's border wall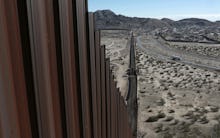 President Donald Trump seems intent on pursuing one of his most flamboyant — and controversial — campaign promises: a massive wall along the United States-Mexico border. But the Mexican government, which has continued to insist that it will not, as Trump has promised, pay for the wall's construction, is now taking steps to help ensure no Mexican companies help build it either.
On Tuesday, the Mexican government issued a warning urging Mexican companies not to help with the construction of Trump's border wall, saying that, while there will be no legal repercussions, doing so could be a devastating blow to those companies' reputations within the country, Reuters reported on Wednesday.
"We're not going to have laws to restrict [companies], but I believe considering your reputation, it would undoubtedly be in your interest to not participate in the construction of the wall," Mexico's economy minister, Ildefonso Guajardo, said on Tuesday.
"There won't be a law with sanctions," Guajardo said, "but Mexicans and Mexican consumers will know how to value those companies that are loyal to our national identity and those that are not."
Mexican company Cemex is one of the largest cement producers in the world, Reuters reports, and it has said it is "open to providing quotes to supply the raw materials for the border wall," although a company spokesperson told Reuters that it would not participate directly in the bidding process. 
The wall, and Trump's claims that Mexico will pay for it, are widely seen as offensive by Mexican citizens, Reuters reports, and Guajardo isn't the only Mexican official to urge Mexican companies not to help construct it. On Friday, Foreign Minister Luis Videgaray said that Mexican companies considering capitalizing on Trump's wall should "check their conscience," Reuters reported. 
Despite the potential harm to U.S.-Mexico relations and the outrage at home, the Trump administration is moving forward with plans for the wall. Just last week, Trump's released a proposed budget that would set aside $2 billion for the wall while cutting funding for a wide array of federally funded programs, including anti-poverty programs, legal aid, programs that provide meals to homeless veterans and financial aid for low-income college students.