Former Trump campaign chair Paul Manafort secretly worked to benefit Putin, report says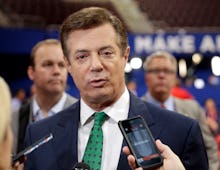 Former Trump campaign manager Paul Manafort made millions secretly working for a Russian billionaire on influencing "politics, business dealings and news coverage inside the United States," towards the end goal of benefiting Russian President Vladimir Putin, according to a new report released early Wednesday morning by the Associated Press.
This news, as the AP reports, seems to contradict statements by both Manafort and President Donald Trump's administration that Manafort had never worked to aid the Russian government. 
Manafort had said in the past that, despite known connections to Russian billionaires believed to be close to Putin, he had "never had a relationship with the Russian government," as NBC News reported in August. 
But the new AP report reveals that, despite Manafort's claims, records show that, beginning around June 2005, Manafort worked with Russian billionaire and close Putin ally Oleg Deripaska to consult on strategies to benefit Russian political interests in the U.S. and around the world.
In a memo to Deripaska in 2005, Manafort described strategies to "greatly benefit the Putin government if employed at the correct levels with the appropriate commitment to success." Manafort reportedly lobbied for Russian interests in Washington and also proposed serving Russian interests by building "long term relationships" with journalists in the west.
According to the AP, Manafort was reportedly paid "tens of millions of dollars" in secret payments from Deripaska that kept coming until as late as 2009. 
Manafort resigned from the Trump campaign in August, but this new report is just another strike against the Trump administration amid a flood of accusations about connections to Russia. While testifying before Congress on Monday, FBI director James Comey confirmed that Trump and his campaign are currently under investigation for potential dealings with Russia during the U.S. election.
On Monday, in the wake of those congressional hearings on Russia's role in the 2016 election, White House press secretary Sean Spicer attempted to create distance between Manafort and the Trump administration. Notably, he said that Manafort "played a very limited role for a very limited amount of time," despite the fact that Manafort was Trump's campaign chairman.