Tennessee Missing Student: Latest updates on manhunt for teacher Tad Cummins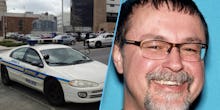 The search is ongoing for Tad Cummins, the 50-year-old Culleoka, Tennessee, teacher who is believed to have abducted his 15-year-old former student, high school freshman Elizabeth Thomas, in mid-March. 
Thomas has been missing since March 13. According to CNN, which cited reporting by HLN, Thomas disappeared after a friend dropped her off at a restaurant in Columbia, Tennessee. Cummins was in Columbia that same day, caught on tape pumping gas.
Thomas reportedly told one of her siblings earlier that day that she was going out but that "someone should call police if she hadn't returned by 6 p.m." An Amber Alert was issued for Thomas on March 14.
Who is Tad Cummins?
Cummins, Thomas' suspected abductor, had been her forensics teacher at her Culleoka High School. In January, another student came forward to say they had seen Cummins kissing Thomas in a classroom, CNN reported. A week later, Thomas' family was notified about the allegations.
Both Cummins and Thomas denied they had kissed, and a report found that the allegations "could not be confirmed." One teacher at the school reportedly said that, although they had not seen Cummins behave inappropriately with Thomas, the girl was frequently in his classroom. 
Cummins "should have a better boundary between his role as the student's teacher and the student's friend," the anonymous teacher said.
Cummins continued to teach at the school, though Thomas was removed from his class and advised to go to other teachers or counselors for help with personal issues.
In early February, Cummins received an official reprimand from the school after Cummins was seen in his classroom. Two days later, CNN reported, Jason Whatley, an attorney for Thomas' father, sent the school a letter about the family's concerns that the school wasn't doing enough to protect Thomas from Cummins. That day, he was suspended from his teaching job.
Local outlet WZTV reported that Cummins was officially fired on March 14, a day after Thomas disappeared. In a statement to the press on Friday, Cummins' wife, Jill Cummins, claimed to have no knowledge of any plans he had to kidnap Thomas, People reported. 
She also spoke directly to Cummins, saying, "Tad, this is not you. This is not who you are. We can help you get through this. No matter how far you've gone or what's happening right now, God's grace is sufficient for you and He wants you to come home."
Updates on the search for Cummins
A massive manhunt is underway for Cummins, who faces charges of aggravated kidnapping and sexual misconduct with a minor, according to CNN. WZTV reported that Cummins is believed to be armed and driving a silver Nissan Rogue with a Tennessee license plate.
Cummins appears to have prepared to abduct Thomas. According to CNN, he took out a $4,500 loan just days before he and Thomas both disappeared and searched online about whether or not his car could tracked. Cummins also did online research on "teen marriage," Tennessee Bureau of Investigation spokesman Josh DeVine told HLN on Tuesday night, according to CNN.
"That is an issue that we have some major concerns of because it might potentially speak to his intentions for [Thomas]," DeVine said.
Authorities believed that by the end of the first day of Thomas' disappearance, she and Cummins were near Decatur, Alabama — about 80 miles south of Columbia, Tennessee, where Thomas had been dropped off earlier that day.
Now, authorities say they have scant clues about Cummins and Thomas' whereabouts. 
"As for what we have seen since then, we have got nothing," DeVine said. "Either they're off the grid in a very rural area, or they are outside the Southeast, where this has been getting an awful lot of attention in the public."