'This Is Us' star Mandy Moore has the ultimate throwback to her NSYNC touring days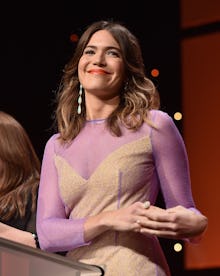 It's hard to forget the pop star days of Mandy Moore. After all, the Golden Globe-nominated actress' character on the NBC drama This Is Us is a singer too.
Back in the early 2000s, Moore found success as a recording artist alongside fellow singers like Britney Spears, Christina Aguilera and Jessica Simpson. She broke out with the song "Candy" from her debut album So Real, and charted with songs like "I Wanna Be With You."
However, it seems she's put the microphone down these days for her acting career. Her last album was 2009's Amanda Leigh, but she hasn't forgotten how she started out. On Tuesday, Moore shared a throwback on her Instagram from her touring days with NSYNC. 
As she shared in the photo's caption, there was a flood at her parents' house recently. They had to choose what to keep and what to throw away. As a result, Moore received all these old photos. 
Guys, there was once a minivan with my silly face plastered on the side to promote my first single, "Candy." This was most certainly taken while on the road, opening up for NSYNC on their amphitheater tour in the summer of '99 (and by open I mean we were on a tiny, rickety side stage performing for folks as they walked through the gates, not on the main stage). #memories #platformflipflopsandtubetop #summerof99
The '90s. Such a simple time. 
Mic has ongoing music coverage. Please follow our main music hub here.