'The Ellen DeGeneres Show' reimagines Trump as the author of classic children's books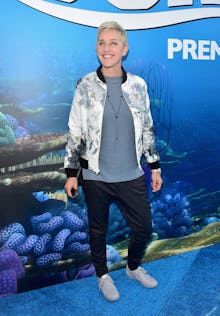 Can you imagine the Cat in the Hat as a Trump supporter? Well, the Ellen DeGeneres Show tried to in a recent episode. In a Donald Trump parody segment, host Ellen DeGeneres presented a selection of classic children's books supposedly reimagined by our current president.
The spoofed book titles took aim at Trump's campaign slogan, his attempts to implement a travel ban and his plans to cut federal funding to Meals on Wheels, a program that feeds millions of America's senior citizens. 
"I don't know if you heard this, but Chelsea Clinton wrote a children's book and it's called She Persisted," said DeGeneres at the top of the segment. "It's about inspirational women who did not take no for an answer, and not to be outdone, Donald Trump has come out with his own children's books. Don't ask me how, but I got a hold of some of them."
The new titles borrow from books by Dr. Seuss, Eric Carle, C.S. Lewis and others. Take a look at Trump's new children's books via Ellen's Instagram:
The Cat in the Make America Great Again Hat
Oh, the Places You Won't Go (Because of the Travel Ban)
The Very Hungry Caterpillar Who Lost His Meals on Wheels Program
The Lion, the Witch and the Microwave That Might Be a Spy
Pat the President
Watch the entire segment below:
Mic has ongoing arts coverage. Please follow our main arts hub here.