Here are the 10 hottest cities for millennials looking to buy a home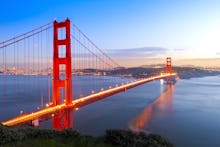 It's hard enough deciding whether to take the leap from renting to owning. And if you decide to buy, there's a seemingly endless list of big questions that follow: What can I afford? What kind of mortgage do I get? Where should I buy?
On March 15, the Federal Reserve announced an increase in interest rates — aka the cost of borrowing money — by a quarter of a percentage point. Analysts anticipate more increases as early as June, and 30-year fixed-rate mortgage rates have risen to an average 4.3% from about 3.7% in March 2016. So if you think you're ready to purchase a home, do it sooner rather than later.
As for where millennials might want to buy? You presumably want to live in a city where there are other people your age. If that's on your list of priorities, you're in luck: On Wednesday, Realtor.com published a report ranking the 10 most popular cities for millennials (25 to 34 years old) looking to buy a home. 
The search engine examined the 60 biggest urban areas by household count and determined the areas with the largest shares of millennial listing views compared to the national average. There were some particularly popular states, with multiple cities in California, New York and Florida. Many metro areas included flourishing industries — translation: good job opportunities — and serve as home turf to giants like Amazon, Snap Inc. and Starbucks.
"High job growth in markets such as Orlando, Seattle and Miami, and the power of affordability in places like Albany and Buffalo are making these markets magnets for millennials," Javier Vivas, manager of economic research at Realtor.com, said in a statement. "But what really stands out is that all these markets already have large numbers of millennials."
Yet it's important to note that not all popular places are necessarily affordable. The Federal Housing Administration, for example, specifies mortgage borrowers not exceed a fixed-payment-to-income ratio of 43% — but in some cities below, the cost to buy a home as a percentage of income exceeds 50%.
So be picky. Without further ado, here are the top 10 urban areas in which millennials seem to be most interested in buying homes, accompanied by Realtor's data on affordability and each city's young population. Many cities listed exceed the national average of about 13% residents aged 25 to 34 years old — so if you opt for one of these, you'll be in good company.
10. San Jose, California
Millennial page view index: 1.14 times the national average
San Jose's biggest draw is, of course, Silicon Valley, home to the booming and lucrative tech industry that offers a number of innovative employment opportunities. A notable number of millennials seem to be interested in downtown San Jose for a few reasons — it's a trendy area with delicious restaurants and good public transport. Still need convincing? It was recently ranked one of America's most livable cities by SmartAsset.
9. San Francisco
Millennial page view index: 1.14 times the national average
San Francisco is another city that appeals to the "young tech generation," but it also has a reputation for being one of the the most expensive U.S. cities when it comes to housing. Nonetheless, millennials still dig it. 
More expensive neighborhoods popular with older millennials include North Beach and the Mission; those on the comparatively more affordable side include the Sunset District and Daly City. Note: San Francisco also tied San Jose in the SmartAsset ranking of most livable cities.
8. Albany, New York
Millennial page view index: 1.16 times the national average
Woot: Affordability! Albany is increasingly becoming a more affordable alternative to cities like San Jose and San Francisco for millennials interested in the tech industry — with far friendlier home price-to-income ratios.
Downtown Albany is apparently the place to be, with "specialty cocktail bars, Biergartens and craft coffee houses," according to the Realtor.com report.
7. Buffalo, New York
Millennial page view index: 1.16 times the national average
As far as East Coast tech hubs are concerned, Buffalo is kind of like Albany's younger cousin. A revitalized waterfront with access to trendy shopping and dining options makes downtown Buffalo and North Buffalo particularly popular neighborhoods for younger homeowners. Plus, housing is relatively affordable!
6. Los Angeles
Millennial page view index: 1.17 times the national average
Silicon Valley, of course, needs a Silicon Beach for all those techies who like to surf. Enter: Los Angeles. The city has a well-established reputation as a mecca for creatives looking to make it big, but with expanding companies like Snap Inc. calling Los Angeles home, it's not just about the stage lights anymore. 
Creative millennials looking to buy are most attracted to Silver Lake. However, it's worth noting Los Angeles was among the top 10 cities for soaring house prices in 2016. So make sure you can afford it — and really love the city.
5. Houston
Millennial page view index: 1.17 times the national average
Houston is getting hotter by the minute, it seems: It's trendy, relaxed, warm and offers a "booming job market" for millennials. Easy access to downtown Houston's boutique shops, restaurants and breweries makes the Heights, Oak Forest and Timbergrove neighborhoods popular among millennials looking to buy homes. Make sure to pull out your rent-vs-buy calculator, though — while Houston is known for high rents, median rent actually dropped in 2016.
4. Seattle
Millennial page view index: 1.18 times the national average
From Amazon to Starbucks to REI, a plethora of big-name companies call Seattle home — which, in turn, makes plenty of millennials want to make Seattle home, too. Capitol Hill and Belltown are two trendy neighborhoods bursting with good food and chill vibes.
A caveat: House prices increased by 11.4% in 2016 — the second-biggest jump nationwide — which suggests that while buying a home in Seattle could be a good long-term investment, it's becoming increasingly pricey. 
3. Orlando, Florida
Millennial page view index: 1.18 times the national average
Here's another city boasting agreeable weather and plenty of charm. Historical neighborhoods like Thornton Park, replete with cobblestone streets and located just east of downtown, make Orlando a magnet for those trendy young folk. And ladies, listen up: Orlando also scores well when it comes to gender equality. In terms of living expenses, the city's also known for being on the slightly cheaper side.
2. Miami
Millennial page view index: 1.19 times the national average
Who hasn't been to — or at least heard of — the beauty that is South Beach? It's an example of why Miami is both fun to live in and a great city for tourism.
South Beach is an especially sought-after neighborhood for more entrepreneurial millennials, but if you're the artsy type, Wynwood — situated just north of downtown — might be more your scene. It has some of the highest rent costs in the United States, which can make buying a home relatively appealing. Before you buy, do a thorough cost-benefit analysis to ensure it makes sense for you. 
1. Salt Lake City
Millennial page view index: 1.20 times the national average
Mountains plus chill vibes equals good quality of life in Salt Lake City, another metro area that offers a growing tech industry alongside a plethora of outdoor activities. And let's not forget January's annual Sundance Film Festival, which takes place around the proverbial corner in Park City. To top it off, salaries in Salt Lake City aren't so bad, either.
Sugar House, southeast of downtown, is a hotspot for millennials looking to buy in what seems to be the most popular city among their peers.
If you're ready to take the plunge and are looking for a fun place to put down roots — surrounded by microbreweries, artisanal coffee houses, delicious restaurants, boutiques and fellow millennials — take a good look at this list.
The answer might be right in front of you.
Sign up for The Payoff — your weekly crash course on how to live your best financial life. Additionally, for all your burning money questions, check out Mic's credit, savings, career, investing and health care hubs for more information — that pays off.