Obamacare Repeal: Numbers show what's at stake if the House approves Trump's health plan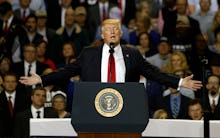 A House vote slated for Thursday will likely determine the fate of the GOP's replacement health care plan. If estimates are to be believed, the outlook is grim.
The bill for the American Health Care Act, the much anticipated Republican replacement for the Affordable Care Act — aka Obamacare — has been widely panned by conservatives. According to CBS News, no more than 21 Republicans can defect in order to keep hopes of passing the bill alive — but an estimated 24 Republicans currently oppose it.
To make matters worse, last-minute changes injected into the legislation on Tuesday in the hopes of making it more favorable to the GOP House majority seem to have only further alienated conservatives.
Here's what's needed to pass the GOP's health care replacement plan — and what's at stake if, against the odds, it gets approved.
24 million
The number of Americans who stand to lose health insurance by the year 2021 if the American Health Care Act is passed, according to the Robert Wood Johnson Foundation.
More than 60
The number of times the GOP-controlled House voted to repeal or revise the Affordable Care Act since the legislation was signed in 2010.
24
Number of Republican lawmakers CBS News currently estimates are refusing to support the AHCA in its current form.
$337 billion
The amount the Congressional Budget Office estimates the AHCA would reduce federal deficits by during the 2017-2026 period — mainly thanks to large cuts to Medicaid.
$880 billion
The dollar amount of those proposed cuts to Medicaid.
390,000
The number of women who could lose access to primary care, including birth control and cancer screenings, if Planned Parenthood were to be defunded, as the AHCA proposes.
2020
The year that Obamacare's Medicaid subsidies would be repealed under the AHCA.
31
The number of states that previously elected to adopt Obama's Medicaid expansion to benefit their poorest residents.
22
The percentage that annual premiums would rise by for Americans between the ages of 60 and 65 under the AHCA, according to the AARP.