"Where's ur nipple daddy?" Fans perplexed after Liam Payne shares shirtless mag cover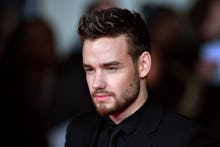 On March 16, One Direction's Liam Payne sent the internet into a tailspin after releasing the cover of the latest issue of Rollacoaster magazine featuring himself, shirtless, in a pose that seems intended to invoke a boxer. 
But it wasn't the singer's limp wrists that had fans clamoring.
Sure, there were your expected comments, "why are you so hot? omg," "THATS MY BABYY" and "Te amo bebe," but mostly there was one question that fans flooded the post asking in various forms: "where are your nipples?"
It seemed, as many fans suspected, that Payne's nipples had been digitally altered — or perhaps removed altogether. 
Not so, according to the photographer, Buzz White, who over the weekend posted screenshots of the photo with and without retouching.
"As you can see from the before and after shots that no removal of the nipple has occurred," White explained. "It's merely down to the angle of how it was shot. For those of you that miss the nipple keep eyes peeled for the issue in April #FreeTheNipple and enjoy your weekend."
So there you have it: angles. Who knew?